The following combat footage was filmed during the grueling battle for Deir Ez-Zor Airport in early July of 2013. It shows Syrian rebels defending a position on the approach to the airport when suddenly, a tank of the Syrian Arab Army fires a direct hit on their position, leaving the rebels surrounded by rubble and dust.
It's unclear how many rebels were killed in the blast, but it's certain that it caused multiple casualties due to the close proximity of the rebels to each other. The men's religious chants certainly did not help their situation and likely allowed the unseen tank to target them so accurately.
The Battle for Deir ez-Zor
Deir Ez-Zor was a hotbed for violence since the very beginning of the Syrian Civil War when the city saw ongoing protests erupt against the Syrian regime. However, it was in late July of 2011 that the city truly erupted into the armed combat we have come to associate all to well with the conflict in Syria, when government forces launched a military operation to retake the city.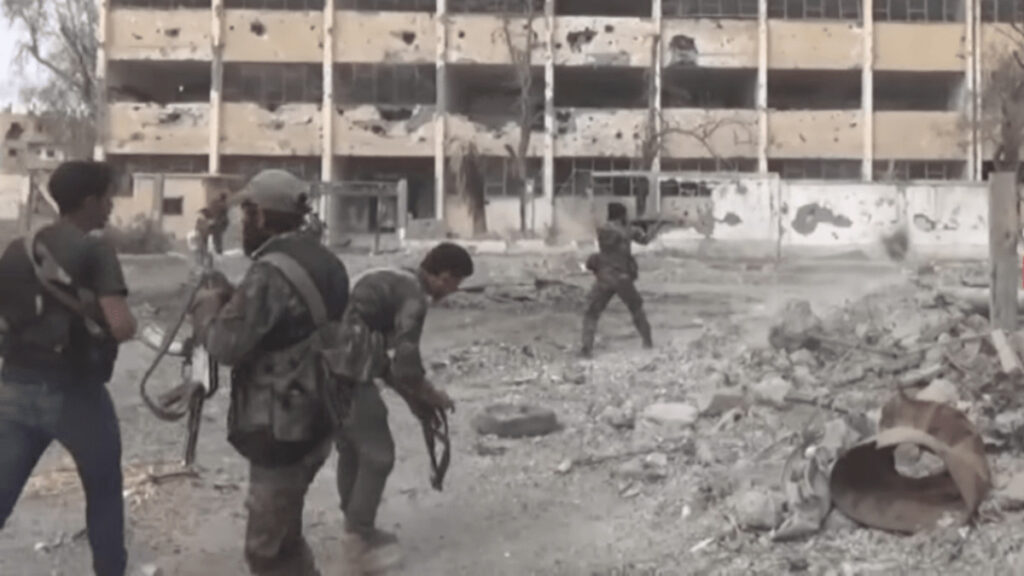 Towards the end of 2013, the bulk of the province of Deir ez-Zor had been captured by Syrian rebel forces. Government forces were only in control of small pockets around the city of Deir ez-Zor. However, it was at this stage of the battle for the area that the infamous terror group Daesh became involved.
By April of 2014, ISIS launched a huge offensive upon Deir ez-Zor. The terror group managed to capture all of the areas previously held by Syrian rebel forces. As a result, intense combat continued to rage in the city between ISIS and the Syrian government forces in the years following.
Related Articles
By November 2016, five years since the start of the fighting in Deir ez-Zor city, it was estimated that around 3,000 anti-government jihadists and 2,500 pro-government fighters had been killed. Government forces were besieged but remained in control of 40 percent of the city and the military airport.