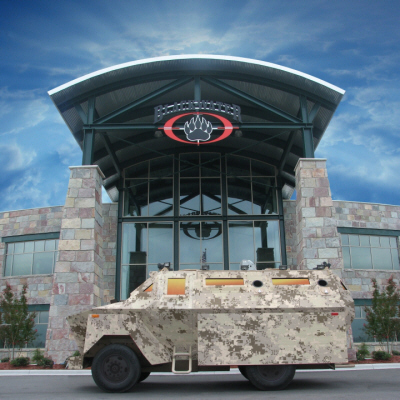 There are a lot of Military Vehicles for Sale on the internet. But it's not every day you see one that was created by one of the most infamous modern mercenary companies to every exist: Blackwater PMC.
In 2003, Blackwater created an armored personnel carrier called the Blackwater Grizzly. The armored vehicle incorporates the exceptional Blackwater High Threat Armor Protection System which was a state-of-the-art technology during the era of its creation and is designed to protect against rounds up to .50 caliber as well as IEDs as it was designed to absorb and deflect any blasts from underneath to protect the passengers inside.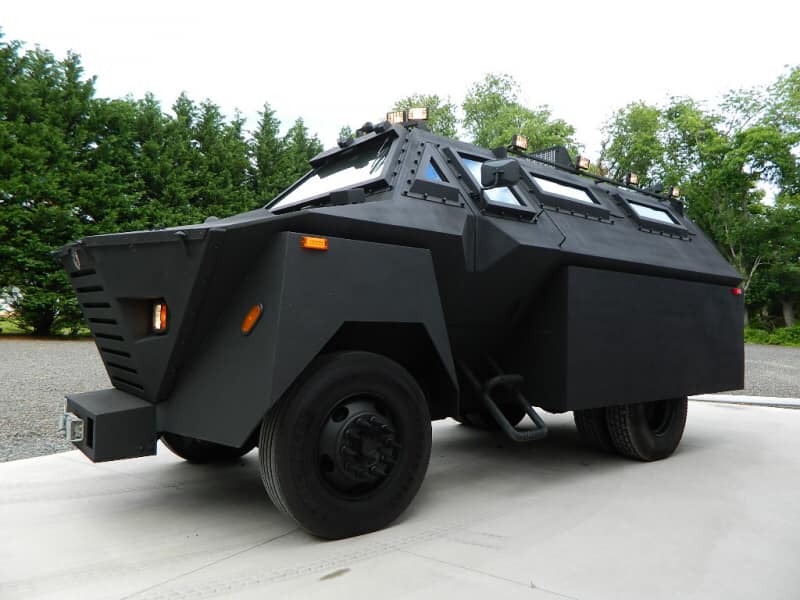 And guess what? We found one of these military vehicles for sale on Facebook. A New Jersey car dealership called South Jersey Classics is advertising a 2003 Blackwater Grizzly for the price of $88,900 with financing available, naturally.
The Blackwater Grizzly on sale only has 971 miles on the clock and can reach a top speed of up to 70 miles per hour despite weighing 15 tons. It's fully street legal and titled as a 2003 GMC.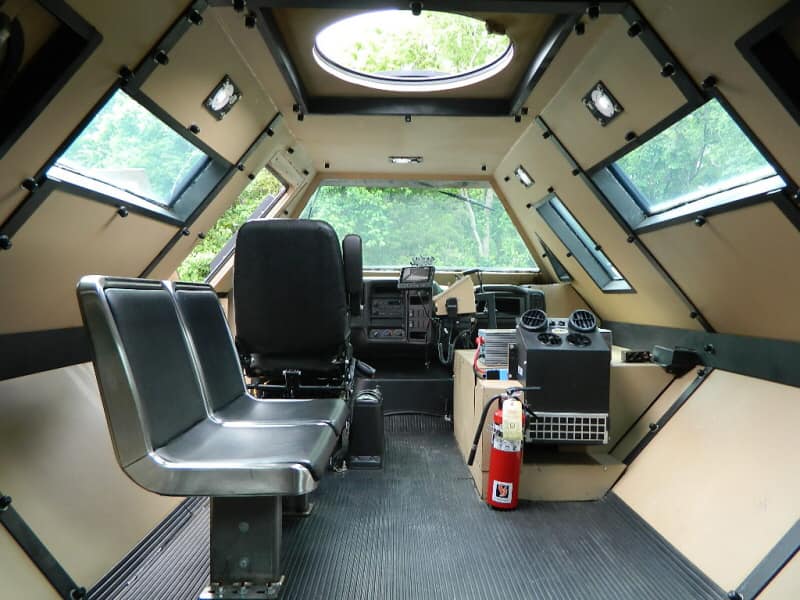 Its original ordinance tan finish has been repainted in 911 black and it features an Allison automatic transmission and is fully armored with a bulletproof windshield. Dual AC keeps your armor protected ass cool all day and the dashboard is manufactured by GMC. And yes, it comes with a cup holder.
The Grizzly APC is made from AR500 armored steel. The passenger compartment walls are angled to deflect the deadly blast waves produced by mines, rocket-propelled grenades (RPGs), and improvised explosive devices (IEDs).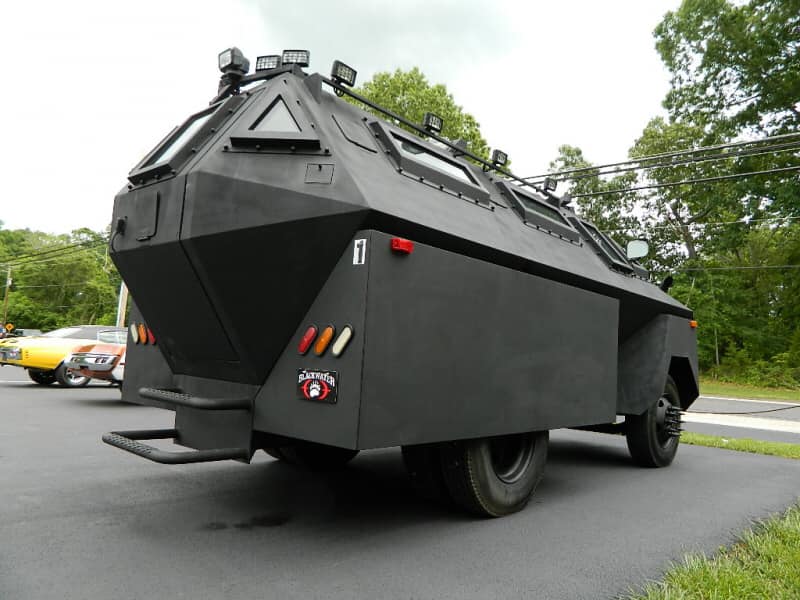 In reality, only a handful of these awesome machines were built and never saw combat. Blackwater PMC was commissioned by the US Government to produce these vehicles especially for use by the US Military in Iraq and Afghanistan.
However, the projections were off and the need for Blackwater to complete its order was obsolete. Subsequently, larger companies that have a strong influence on US Policies such as Lockheed Martin and General Dynamics were awarded the multi-million dollar contracts instead.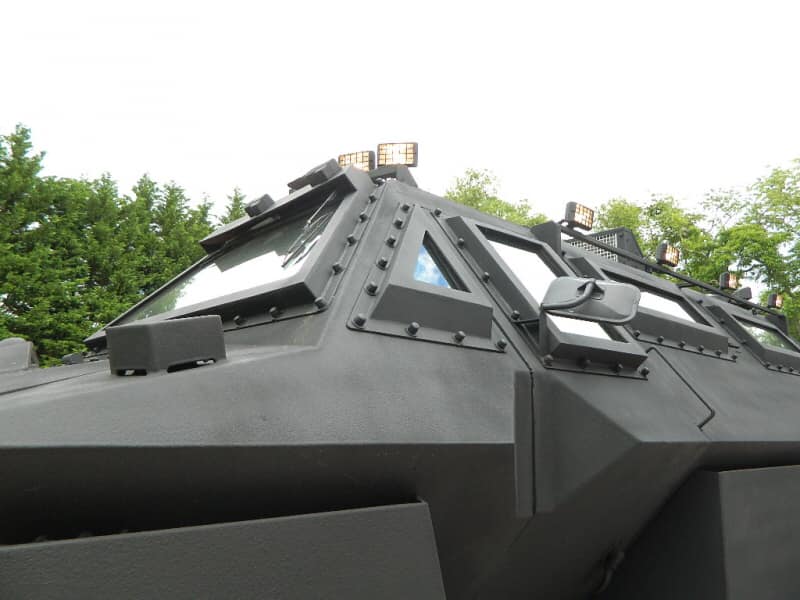 If you're a car guy, you can compare it to the same story as the Tucker in the late '40s. Big companies such as GM, Ford, and Chrysler didn't want the smaller company to succeed and would do what it takes to wipe them out, just like Lockheed and General Dynamics did.
Unfortunately for our non-US readers, exporting the vehicle abroad is out of the question and it can only be legally sold within the United States.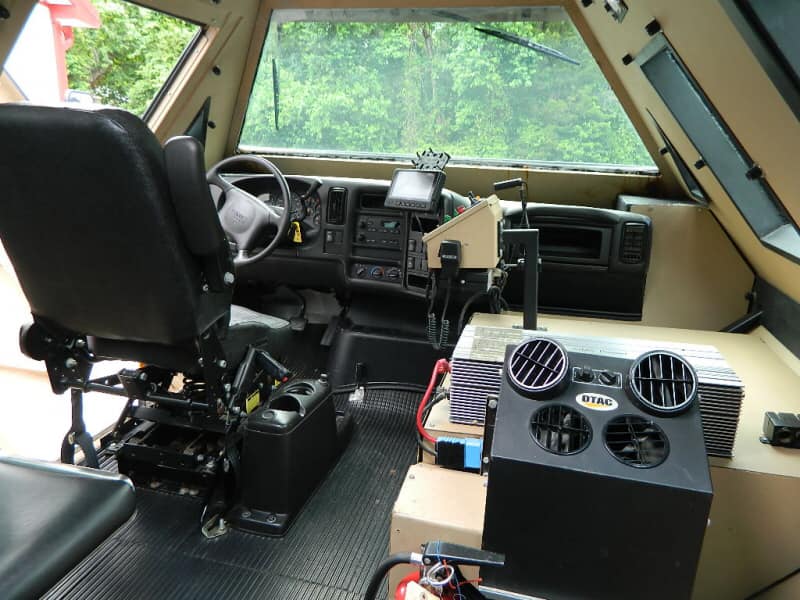 From our point of view, this example of one of the more bizarre military vehicles for sale on the internet looks like it would be hell to use in a warzone. It looks like it was made by somebody with no idea about APCs. Exposed roof fans, multiple windows that could be obscured with a paint bomb, slippery seats with no seatbelts, a major lack of internal supports, the list goes on.
However, far from its original intended purpose, pimping the interior of this thing as a camping or hunting vehicle would be a project I'd like to do. Add a cooler, a TV, and some navy rack curtains and it's the ideal vacation vehicle.