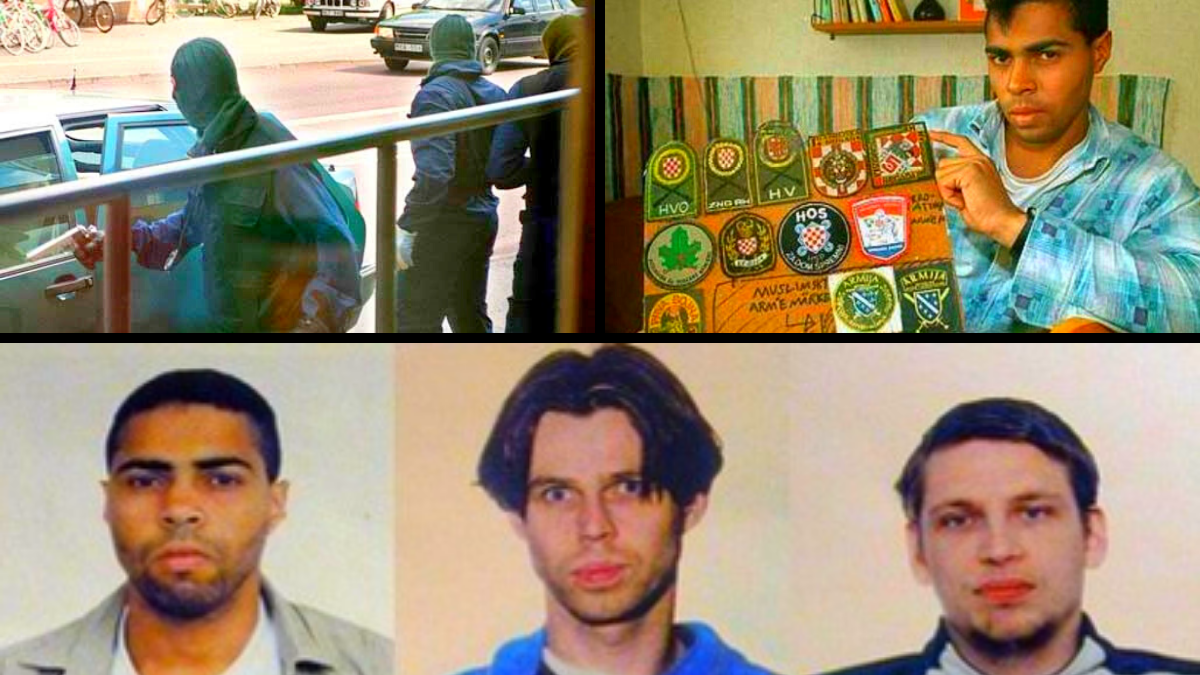 *Warning – The following Reaper Feed article "A Half Swedish Half black Neo-Nazi Mercenary, War Criminal & Cop Killer" contains graphic details of racial hatred and appalling war crimes that took place during the Wars in the former Yugoslavia. Reader discretion is advised.*
The following story is one that would be difficult to believe as realistic if it was portrayed in a movie. It's one of a half-Swedish half-Black neo-Nazi mercenary raised in the Lapland region of Sweden. At the age of 19, he traveled to war-torn Bosnia as a mercenary where he engaged in active combat and brutal torture of civilians. After prison sentences, he would go on to execute Swedish police officers with their own guns in a neo-Nazi rampage. This is a horrifying story beyond belief. This is the story of Jackie Arklöv.
Where Does The Story of a Half Swedish Half Black Neo-Nazi Begin?
The story of Jackie Arklöv begins in one of the oldest countries in Africa: Liberia. He was born on the 6th of June 1973 to a Liberian mother and a German father who was not around to raise him. After a troubled childhood in poverty-stricken Liberia, Arklöv was adopted by a Swedish couple at three years old.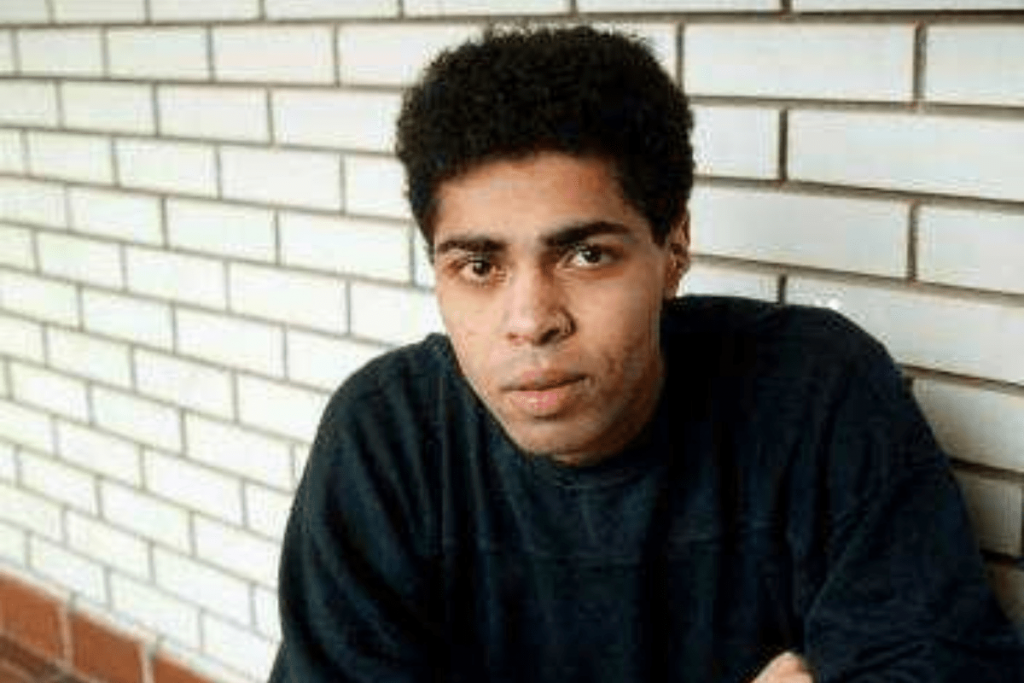 He spent his childhood in the Swedish region of Lapland. As the only adopted half Swedish half-black child in his new village of Ankarsund, his childhood was defined by bullying and receiving capital punishment from the couple who adopted him. As he grew up, Arklöv was reported to have gone through an identity crisis that saw him make crude attempts to turn himself white by scrubbing his skin or covering it with flour.
"Being African, Arklöv probably turned to neo-nazism out of self-loathing from not fitting in and wanting to belong to something extreme."

– People Pill
As a teenager, Arklöv's identity crisis took a far more sinister and outright bizarre turn. He began to develop an unhealthy obsession with the Second World War and in particular, the Nazi ideology. This fascination subsequently saw him identify as a neo-Nazi. In later life, he would give the main reasons for doing so as feeling lonely and hate-filled as well as being able to identify with people who were considered losers.
A Mercenary Charged With War Crimes
When Arklöv reached the age of 18, he began his journey into a life of extreme violence that would see mass murder, torture, executions, and misery placed upon hundreds of people in both Sweden and the former Yugoslavia. He became engulfed in the study of the Ustasha: the fascist, ultranationalist and terrorist organization of Croatia with a reputation for blood-chilling violence.
Arklöv claimed that at the time he was eager to experience war and left Sweden in his search to do so. He initially made attempts to join the French Foreign Legion. Due to the elite regiment not participating in any wars at the time, he soon made his way to the former Yugoslavia which was engulfed in the grueling conflict between Serbs, Bosniaks, and Croats. Now 19, he volunteered for a neo-Ustasha unit called Ludvig Pavlovic. Comprised of largely ethnic Croats, its role was described as "special purposes".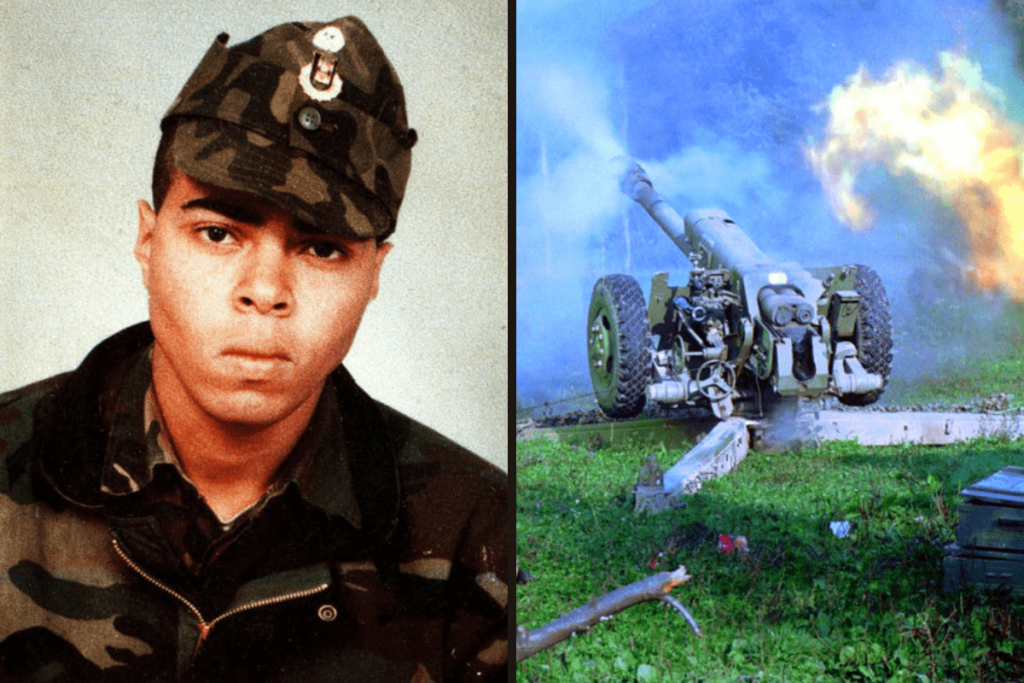 The Ludvig Pavlovic unit, named after a slain Croatian nationalist of the same name, was known for carrying out what they called "special missions' or "cleaning up". This often translated to the unit donning balaclavas, entering villages, and committing horrendous crimes and ethnic cleansing against the local civilian populations.
Arklöv's actions with the unit are detailed in his personal diary he kept during the war. He himself detailed how he would throw grenades into civilian homes before spraying bullets into anyone who survived the detonation, often blasting extreme heavy metal whilst doing so. According to Swedish journalist Magnus Sandelin, who is one of the only people to have seen the diary, other pages are covered with nazi icons and another is a phrase sheet of local insults in Serb-Croat that he learned in order to humiliate his victims. Arklöv also noted down his sadistic thoughts such as "the murder of Bosniak Muslims was almost as good as an orgasm".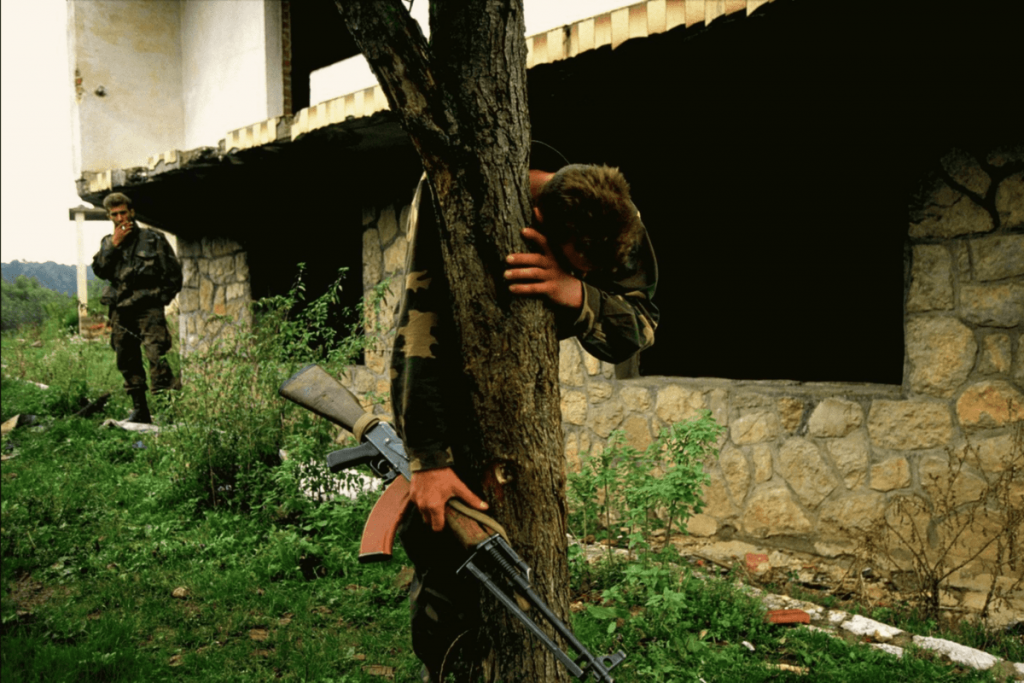 Throughout the war in Bosnia, concentration camps reminiscent of WW2 were a grim feature of the conflict. Arklöv, often dressed in a black Fascist uniform was active in such camps situated in Gabela, Dretelj, and Grabovina. At such godforsaken places, he was accused of a string of heinous crimes. Amongst them was torturing pregnant Bosniak women, whipping captive prisoners with a Waffen-SS belt, and viscously beating others until their arms and legs broke. One witness claimed that Arklöv demanded a captive Bosniak woman say "Allahu akbar" before he shoved his Kalashnikov into her mouth.
At Gabela camp, Arklöv was often seen conversing with the camp commandant Bosko Previsic before and after carrying out torture. Previsic was known to publicly execute camp inmates for as little as concealing a piece of bread. Those held at the camps soon began calling Arklöv "the Black Devil" on account of his demonic behavior, his black uniform, and his skin color.
"do as he says, or he'll kill you, he is totally insane"

– How fellow concentration camp guards would coerce Arklöv's victims into following his often humiliating orders.
Despite traumatizing his adoptive mother by sending her the blood-spattered hat of a slain enemy soldier, Arklöv took some R&R from the frontline to spend a Christmas back home in Sweden. Away from the warzone, he reported extreme hallucinations, night terrors, and PTSD. Despite this, he continued to return to the frontline and carried on fighting and carrying out war crimes until the war came to an end.
Shortly after the ceasefire in Bosnia in 1995, Arklöv found himself drunk. After accidentally walking over into a Bosniak position, he was arrested by the very people he had been carrying out war crimes against. Despite being lucky to have not had the treatment he meted out to others returned tenfold, Arklöv was sentenced to 13 years in prison for war crimes. Whilst the first year was spent in a Bosnian jail, he was soon returned to Sweden by the Swedish Red Cross.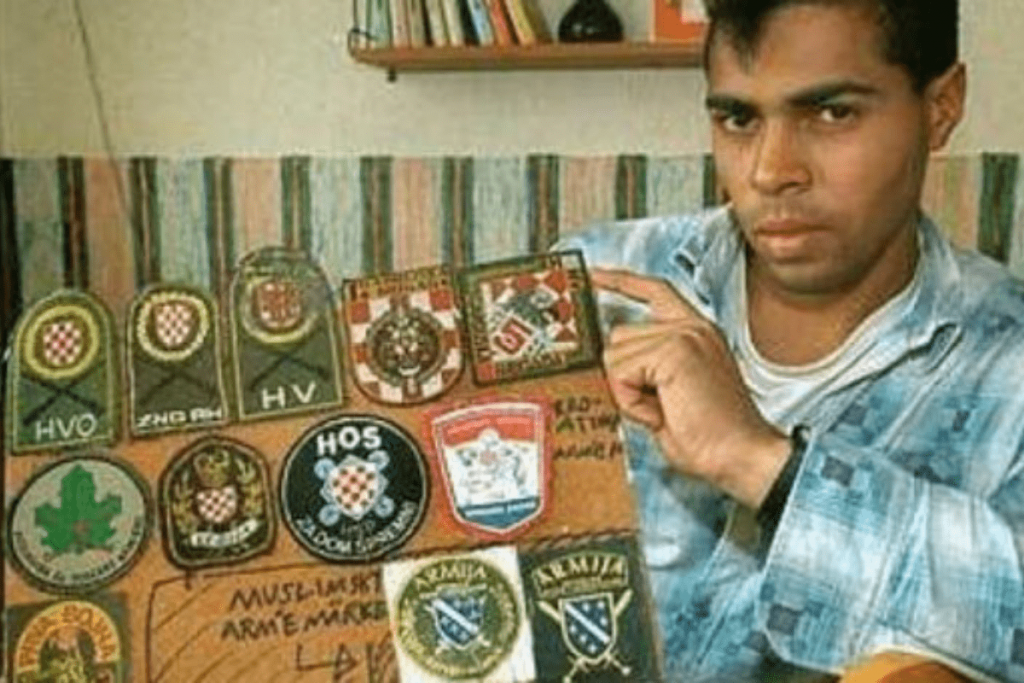 After a short spell in Swedish custody, he was acquitted of his charges on account of a lack of evidence. Sweden had unknowingly unleashed an extremely violent, psychotic, neo-Nazi war criminal onto their streets. Although they didn't know it yet, their naivety would end in a bloodthirsty and appalling crescendo on the streets of the Swedish town of Malexander.
The Bank Robber and Cop Killer – The Malexander Murders
During his short spell in Swedish custody, Arklöv was contacted by a Swedish man and fellow neo-Nazi named Tony Olsson. Despite Arklöv's contradictory ethnicity, Olsson was forming a violent neo-Nazi group called "the Nationalist Republican Army" and saw Arklöv's combat experience in the War in Bosnia as a useful tool to his cause.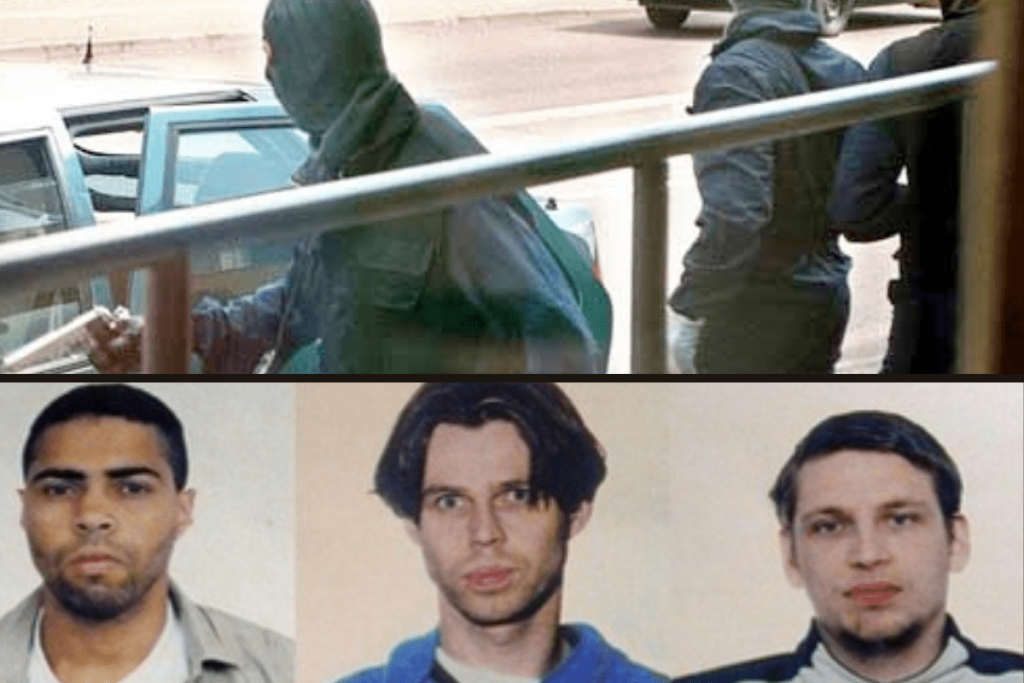 Arklöv's post-war life back in Sweden was far from normal. He described himself as an empty person living in a surreal nightmarish twilight state. Ex-girlfriends have described his life at this point consisting of watching war movies on repeat for hours and only interrupted by episodes of rage and anxiety. He continued to hang out with Olsson. His other neo-Nazi friends were not so accepting of Arklöv, however. It's reported that they saw a black, adopted man hanging out with them as "strange".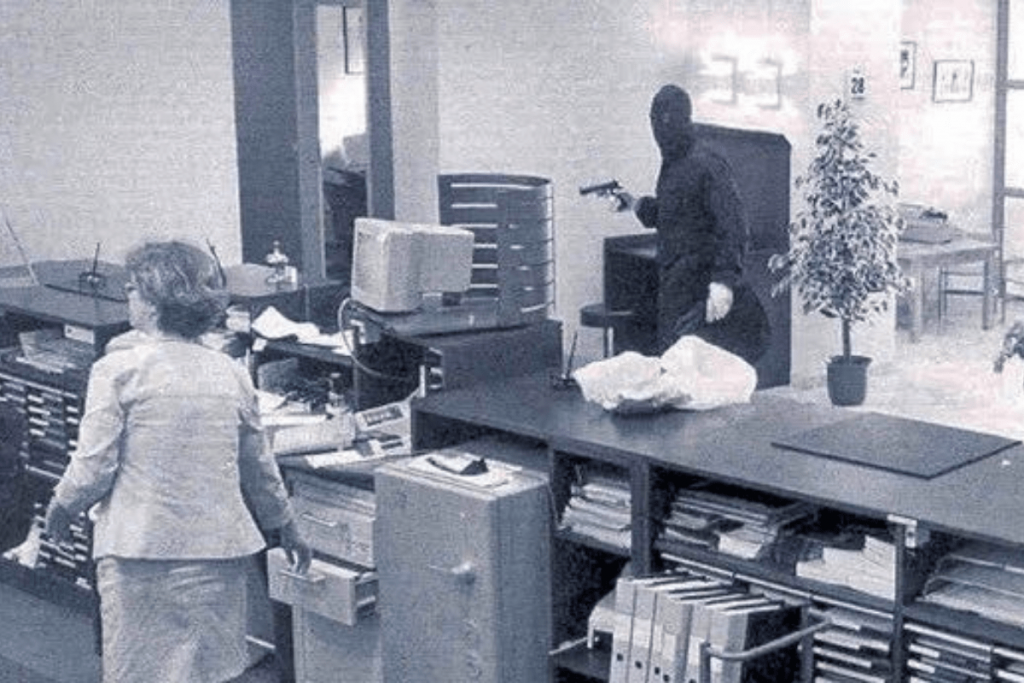 In 1999, Arklöv, Olsson, and another neo-Nazi named Andreas Axelsson began a violent road trip through the Swedish province of Östergötland that saw the trio carry out various armed robberies. The trip culminated on the 28th of May when the three carried out the robbery of the Östgöta Enskilda Bank in the town of Kisa. The neo-Nazi trio, armed with submachine guns and handguns, initially escaped with over two million SEK and hit the road. However, they were not alone.
Following the gang was a lone Swedish cop called Kennet Eklund. Upon seeing they were being followed, a barrage of hand grenades and gunfire was unleashed on Eklund who was thrown off their trail and lucky to escape alive. Shortly down the road, two more Swedish cops named Olle Borén and Robert Karlström intercepted the gang at a roadblock. A shootout occurred which saw both cops disarmed and executed at close range with their own guns. The gang then escaped, sparking a nationwide manhunt.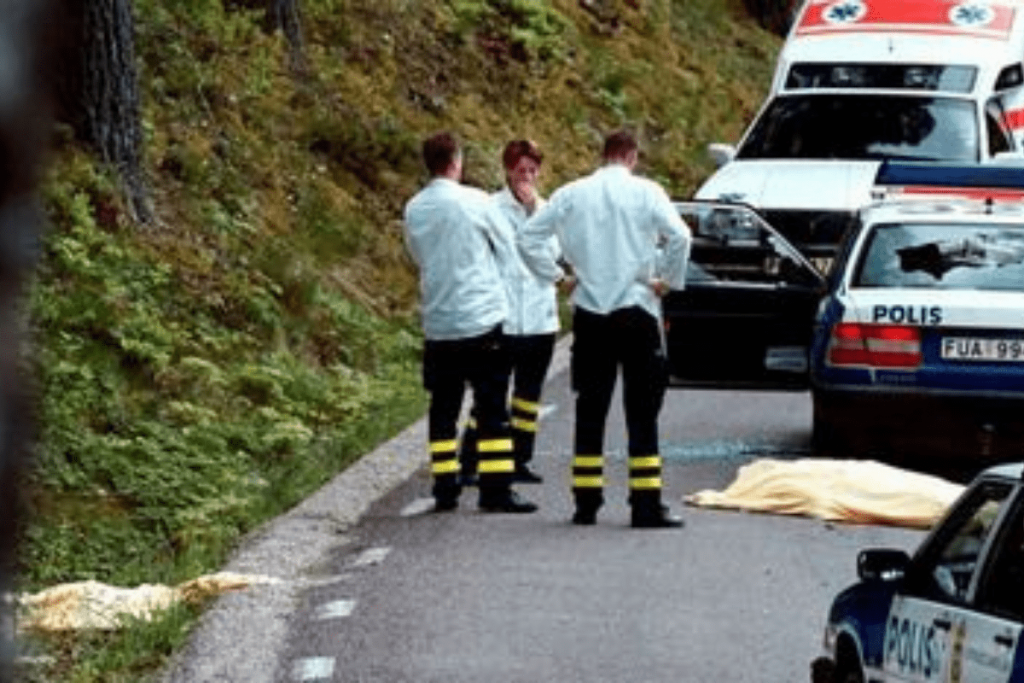 A few days after the Malexander murders, Jackie Arklöv was cornered, shot, and arrested in the Swedish town of Tyresö. Despite initially trying to manipulate his prosecutors that he was innocent and actually in Stockholm when the murders took place, the evidence against him make it clear that he, along with the other two gang members, were behind the killings. All three of the neo-Nazi gang were sentenced to life.
Where is Jackie Arklöv Now?
In 2001, in what was seen as a vain attempt to have his sentence reduced, Arklöv admitted to the Malexander murders. He also claimed that he had ditched his neo-Nazi ideology and was making attempts to contact the Swedish / German group Exit, which aims to provide support and rehabilitation services for neo-Nazis who want to leave the subculture.
" The public must be protected from those like you. You have harmed enough people. In my opinion, you have missed your chances of staying out among people. Therefore, I hope that life imprisonment means that someone really throws away the key."

– The speech given by Annelie Ljungberg, widow of slain police officer Olle Borén, in a Swedish courtroom.
In the first few years of his sentence, Arklöv's heinous crimes in the former Yugoslavia came back to haunt him. In a 2004 article written by Maciej Zaremba, the decision to release Arklöv from Swedish custody and brush aside his war crime accusations due to lack of evidence was brought to public attention. To provide evidence against him, Zaremba summoned various former victims of Arklöv who were tortured in the concentration camps. This caused the war crimes investigation to reopen.
The trial began on the 10th of November 2006 and saw the victims and witnesses brought to the stand. Just over a month later on the 18th December, the Swedish court found Arklöv guilty of multiple abhorrent crimes to accompany his double murder charge. From wrongful imprisonment and ethnic cleansing to looting and torture, Arklöv was ordered to pay surviving victims large amounts of compensation ranging between $10,000 – $62,000.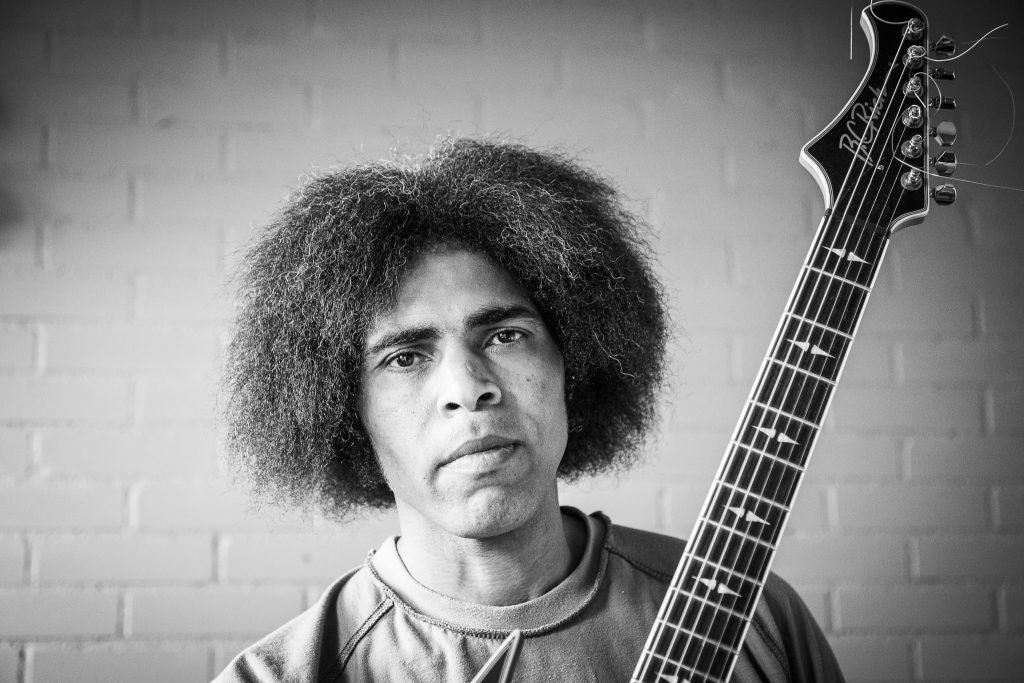 Today, the half Swedish half Black neo-Nazi mercenary is aged 47 and remains behind bars in a Swedish jail called Anstalten Storboda. Alongside his former sidekick Tony Olsson, Jackie Arklöv has apparently found religion inside the prison. Now calling himself a pacifist, he has continued to make multiple attempts to have his sentence reduced. All have been rejected.