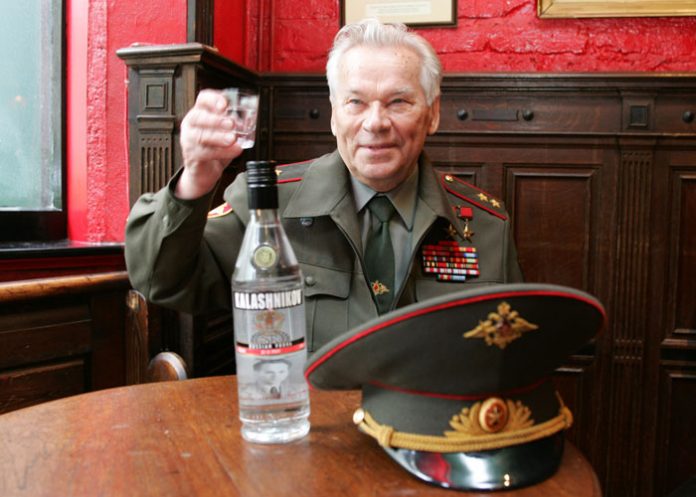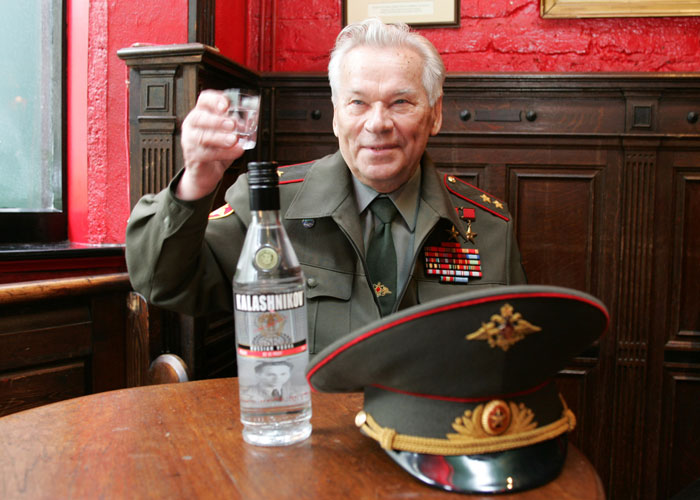 In 1947, Mikhail Kalashnikov produced the AK47. In the years that followed the weapon would become one of the most prolific killing machines that have seen action in almost every armed conflict and war since 1947. As an infamous icon that's been immortalized in concrete monuments from North Korea to Egypt, many are deeply curious as to anything that appears with the brand name, such as Kalashnikov Vodka.
We've all seen those Kalashnikov shaped bottles of Vodka in liquor stores, but does Kalashnkikov company make Vodka? Named after Mikhail Kalashnikov and now called Kalashnikov Concern, the company of the world's most deadly and mass-produced assault rifle have delved into everything from electric Kalashnikov cars to robots, but few people realize that official Kalashnikov Vodka exists.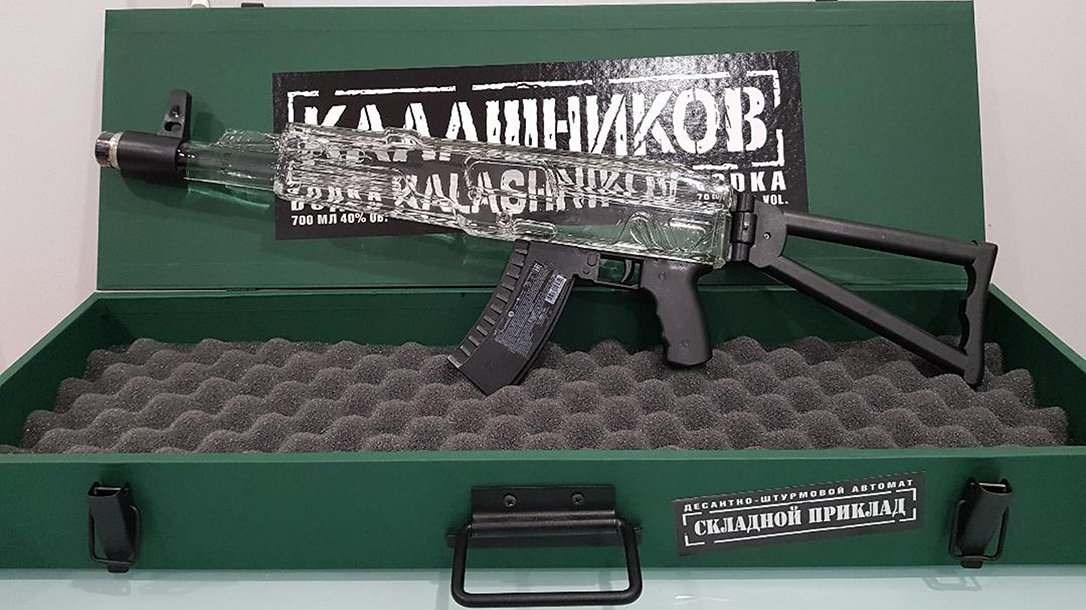 The classic Russian drink under the Kalashnikov brand was formed back in 2004 in London of all places. When Mikhail Kalashnikov was 83 he was in the British capital to support the Russian chess grandmaster Gary Kasparov. After the Chess tournament, he was chilling in a high-end London nightclub in full Soviet military uniform telling a group of fascinated people stories of his life as the world's most infamous weapons designer.
It's no secret that Mikhail Kalashnikov was pained by the death, devastation, and misery his weapon had caused around the world. So when he was approached by a wealthy British entrepreneur named John Florey approached Mikhail Kalashnikov and asked if he would put his name to Florey's Vodka being brewed in Saint Petersburg, Mikhail was keen as he wanted to put his name on something not linked to a deadly weapon, which vodka ironically is.
The bottle itself is fitting to the Kalashnikov brand and comes in a variety of styles but our personal favourite is the one that resembles the shape of a bullet. On one of our trips to Mother Russia, we were lucky to pick up a bottle as a souvenir but tragically, it broke in our luggage during the flight home leading to a vow being made to drink it immediately after purchase on our next visit.
Interestingly, Kalashnikov Vodka is classed as 'Military Grade' due to being slightly stronger than regular vodka and is 41% proof. This Russian production method was devised many years ago in order to prevent homemade vodka being given to soldiers as rations. To find out if it was real, 41 abv was military-grade, 40 abv or less was classed as moonshine. The Kalashnikov Vodka upholds this tradition.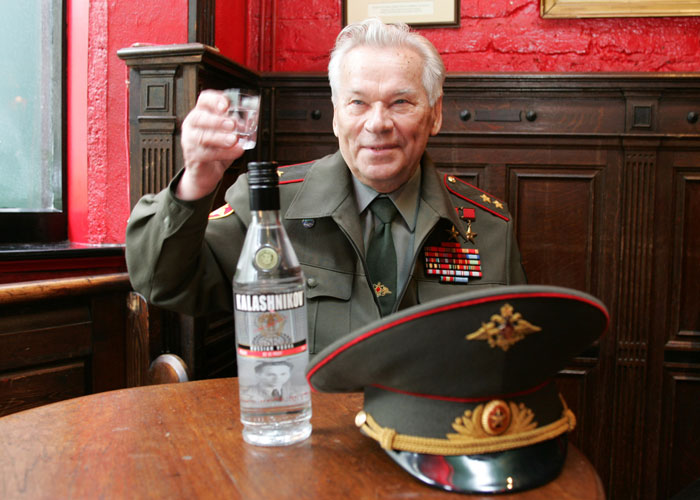 Whilst Mikhail Kalashnikov hailed from the Russian village of Kurya, Kalashnikov Vodka is produced in Saint Petersburg Kalashnikov Vodka is produced in St Petersburg using pure Russian water from nearby Lake Ladoga north of St Petersburg.
Kalashnikov Vodka is produced using live water, which is a Russian term to describe water that still possesses a positive microorganism. In comparison, dead water is used to describe water that had been industrially distilled.
Apparently, in partnership with the Kalashnikov Joint Stock Vodka Company, Mikhail Kalashnikov was involved in everything from the production of the vodka to the design of the bottle and label. Today it can be bought for between $30 – $40 mostly online or in the countries that make up the former Soviet Union. Since Kalashnikov's death, the website of the vodka brand is down, and it is unclear who is behind it now.
To check out related articles to the world of the Kalashnikov, be sure to check out our Weapons and Tech section covering all war-related products and battlefield tech from past and present!