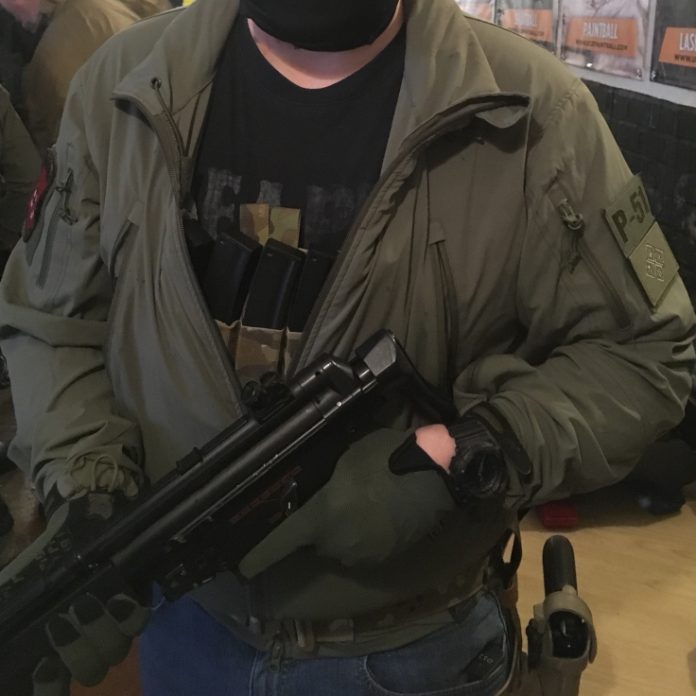 Since its invention during World War One by John T. Thomson, the submachine gun has gone on to revolutionize warfare throughout the 20th and 21st centuries. After ammunition, one of the key accessories for a submachine gun is the SMG chest rig. Largely in 9mm, SMG magazines are long and thin in nature. Pistol magazine holders are too small, so specialist SMG chest rigs are required.
In this article, we're going to look at SMG chest rig setups from around the world that can be used in a variety of roles from battlefield deployment to discreet concealment. Our lowdown on each of these chest rigs comes from the experience of using them in conflict zones and each was chosen on their high performance.
Blue Force Gear Ten-Speed SMG Chest Rig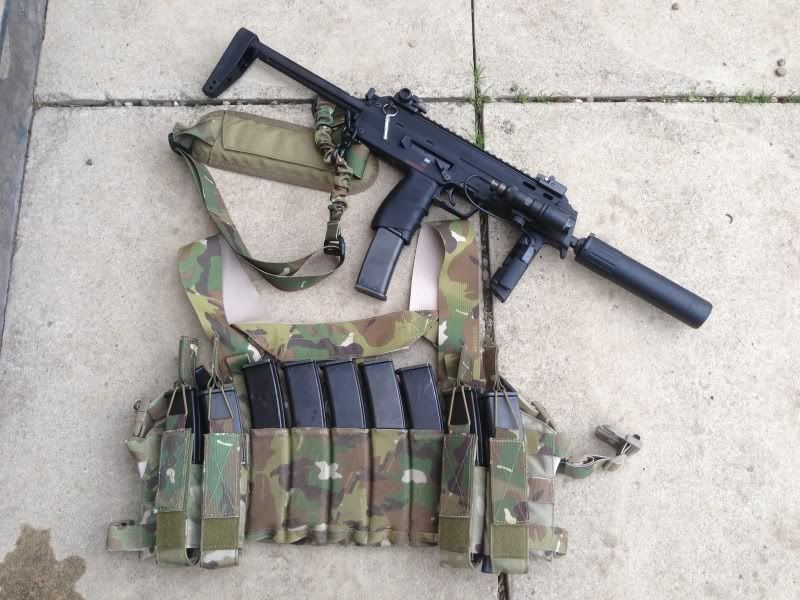 This extremely lightweight and compact SMG chest rig from the long-established Blue Force Gear was originally designed for military units armed with the Heckler & Koch MP9 submachine gun. Constructed from 500D Cordura Nylon, the chest rig set up is capable of carrying 5 magazines for the MP7 or similar weapons such as the Uzi, MP5, Mac, or Colt SMG. In addition to the magazine pouches, the SMG chest rig also features a MOLLE section on each side allowing you to fit MOLLE compatible equipment.
In addition, the chest rig is compatible with a range of combat environments and can be work concealed under casual clothing or worn over your body armor. To the rear of the chest rig set up is an area for identification and IFF patches as well as an emergency drag handle. Internally, the SMG chest rig has a large pocket to hold documents and maps.
After using the Blue Force Gear Ten-Speed in a variety of operations, in my opinion, it is one of the most underrated and versatile SMG chest rigs on the market today. As well as SMG mags, I utilize other pouches on the chest rig set up for things such as GPS kits, tourniquets, small-sized radios, viper cam, etc.
This rig is perfect for light operations and home defense and is easy to store in a grab bag. Throughout prolonged use in a variety of harsh environments, the elastic has retained its strength and never loses its grip on vital equipment. It is easily equipped with one hand and comfortable to wear for long periods of time. A good piece of advice is to secure the waistband with an elastic band when the rig is not in use.
Whiskey Two Four Turnkey SMG Chest Rig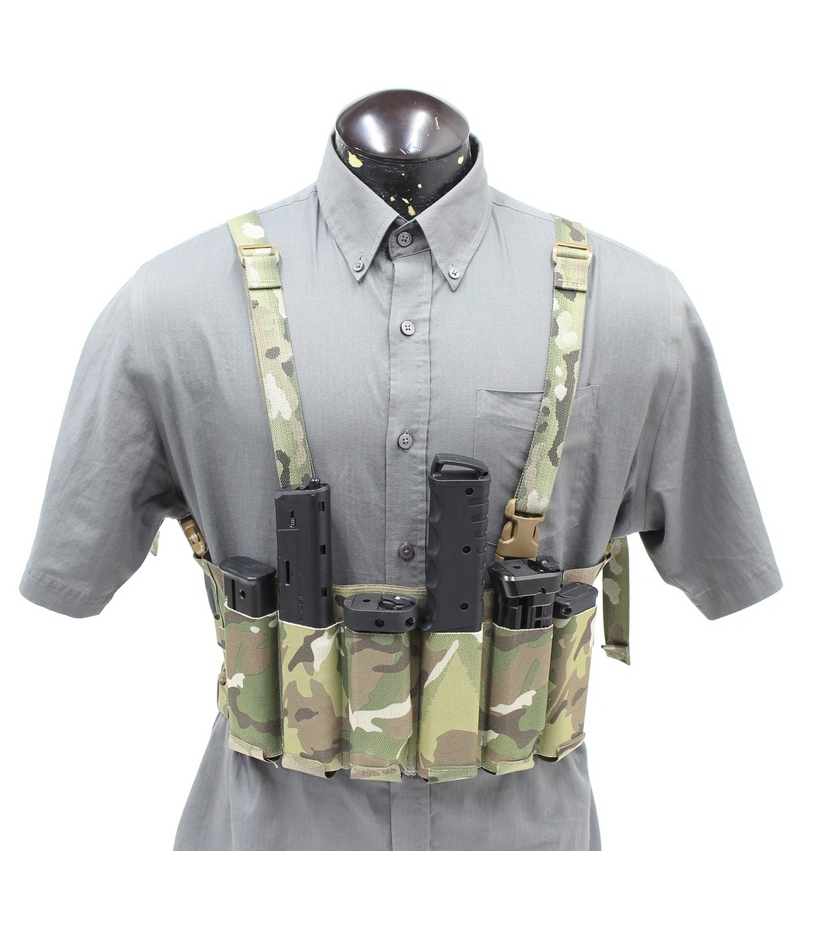 The next chest rig is made in the USA by Whiskey Two-Four. Thin, lightweight, and with the ability to carry up to 5 SMG magazines, the Whiskey Two Four Turnkey SMG Chest Rig fits perfectly to your body and a fantastic option for covert work and wearing concealed under casual clothing. Naturally, it can also be worn over body armor as well.
The rig is constructed from a material known as ACRONYM (Advanced Composite Rugged Optimized Nylon Material). This stuff is very hard-wearing. The rig is fitted with H pattern shoulder straps rather than the X pattern, which allows the rig to be worn higher up the chest is desired.
My only criticism of this chest rig set up is the open space at the bottom of each mag pouch which has the potential to allow dirt, mud, or water to get into your chest rig depending on your working environment.
SMG Chest Rig from Beez Combat Systems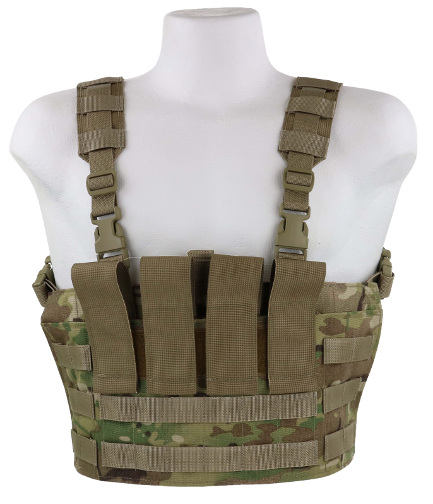 Made in the USA by Beez Combat Systems, their PCC Pistol Caliber Carbine Chest Rig has become a popular hit amongst SMG users around the world. Constructed from military spec 1000 denier Cordura, the chest rig set up is lightweight and low profile. The rig is compatible with a range of extended magazine systems from the Glock 9mm 33 round Magazine, Beretta 9mm 32 round Magazine, and many more.
I used the PCC rig in various urban environments and found it well suited due to its combination of lightweight materials and is low profile. One of my favorite features was the ability to adjust the flaps on each mag pouch in order to secure various magazines of different round capacities, whether 45acp or 9mm. The standard MOLLE system on the front and allows you to add more magazines or other equipment such as first aid kits, GPS or small radios. It's also very easy to conceal if keeping a low profile is needed.
This particular SMG chest rig setup comes in a variety of colors which makes it adaptable to a variety of clothing from 5.11 shirts to Scollor pants.
Matrix High-Speed Operator SMG Chest Rig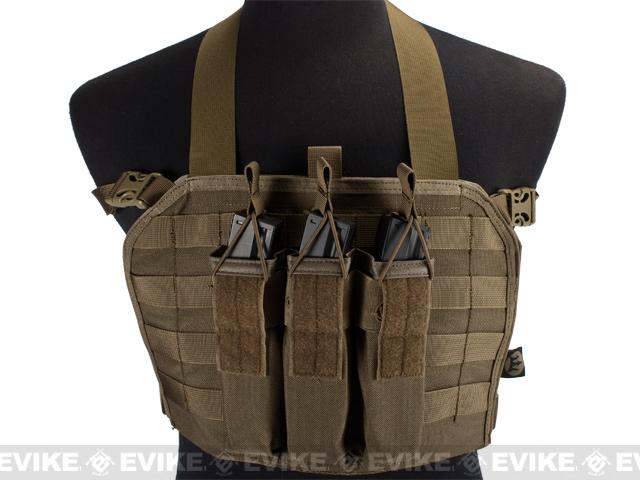 Established by the Matrix company which has almost two decades of experience in producing military equipment largely for use within the airsoft community, their high-speed operator chest rig set up is great for working in hostile environments and allows you to completely customize your rigout with quick access to whatever you need.
Made from highly durable nylon. This chest rig is simple, cheap, compact, and features three integrated SMG magazine pouches for MP7 magazines or similar. In addition, it has a large internal map pocket as well as a MOLLE system allowing you to add additional pouches and equipment.
This chest rig set up is perfect for a light loadout. I've used it twice to carry UMP mags and found it more than adequate. The MOLLE sections on either side are adequate enough to secure a handgun holster. The clips on this rig aren't the toughest, but for the price, there's not much to complain about.
Head On Tactical 4 Mag Vector SMG Chest Rig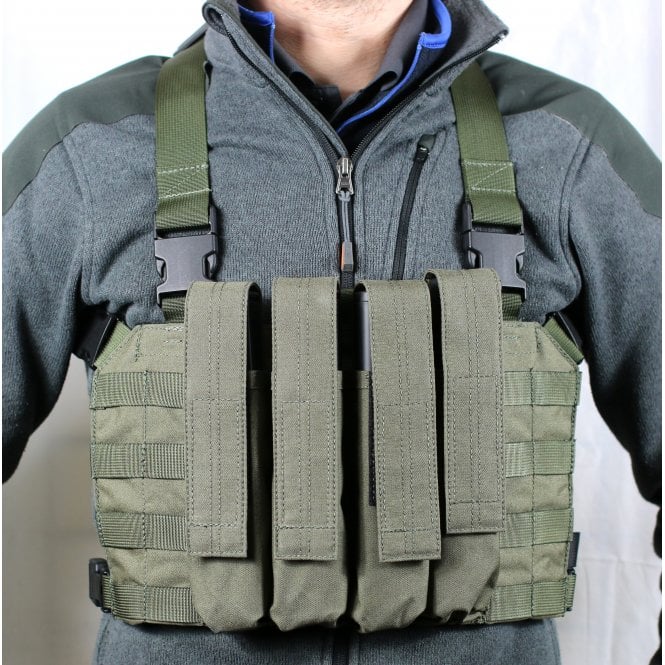 One of the latest SMG chest rigs to hit the market, the Head On Tactical 4 Mag Vector SMG Chest Rig is made from military spec 1000D Cordura and has the capacity to hold 4 magazines for the KRISS Vector or similar weapons. All of the mag pouches are fitted with a military spec shock cord in order to properly secure your magazines. This particular SMG chest rig goes perfectly with a weapon belt like the Emissary gun belt.
Either side of the vest is fitted with the Pouch Attachment Ladder System (PALS) in order for you to fully customize the rig to your liking. It has an internal map or document pocket and is fitted with a harness as standard. In my experience, the rig is hard-wearing, easy to conceal and can be utilized to carry a variety of magazines from a variety of weapons systems like the MP7, MP5, Uzi, MAC 10, Glock, and Colt SMG.
If you enjoyed this article, check out our Weapons and Tech department for a variety of related articles on the latest kit on the modern battlefield.