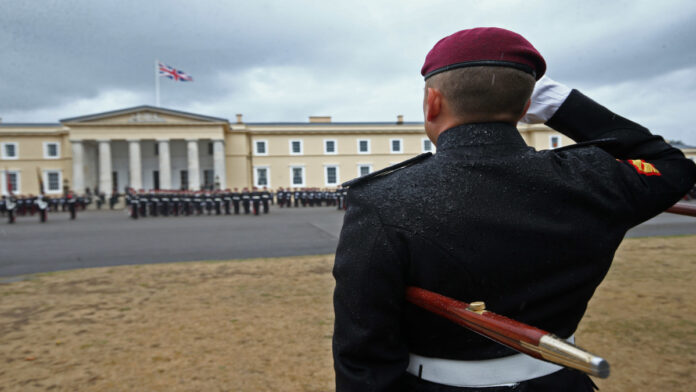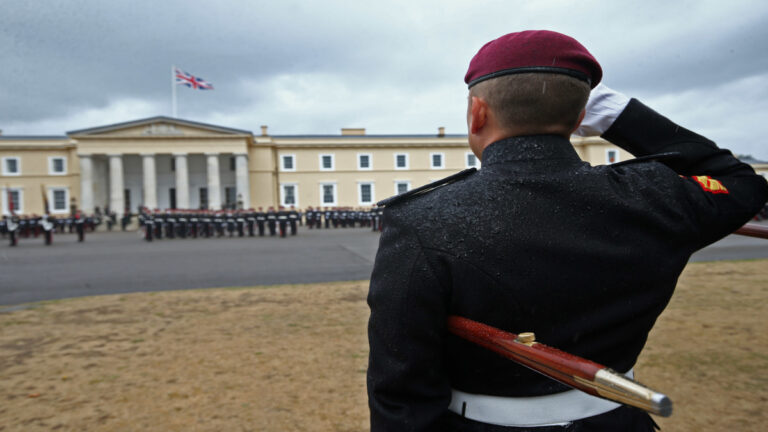 Our guest is Eugene, 21. One of the Ukrainian soldiers training in UK. He was lucky enough not only to join Ukrainian Armed Forces as an officer, but also to go through training program in one of the world's finest institutions – Royal Military Academy Sandhurts.
This interview was conducted by our friend, the admin of Telegram channel devoted to British Armed forces. The channel is run in Ukrainian, but Telegram now has translate function.
Why did you decide for a military career?
I decided to become an officer because of how I was raised as a child. Honor, glory, responsibility and necessity – these were the key values in our family. I took first practical step towards my dream couple of years before the full scale invasion. After initial invasion in 2014, to me it was obvious that my destiny is to join the armed forces.
Where have you been on 24.02.22?
On this day I was in Sandhurst academy. At first I was in absolute shock, thinking about how I can get to the battlefield ASAP. After a short period of time I have realized, that the correct decision is to to finish my education. Since then I put even more effort into studying in order to represent my Country in the best possible way.
Have you ever been on the frontline?
So far, no.* A lot of people are afraid of going to war, but not me. Maybe it's just a romantic view brought from the books and movies, but I hope to get a real chance to make direct effort for the victory.
*the interview was conducted couple of month ago, at this point Eugene is back in Ukraine
How did you manage to get into RMAS?
There was a test based competition between different Ukrainian Military Universities. The test was not too hard, mainly focusing on the linguistical skills. Before coming to the UK I was under impression, that my level of English is good. Well, after spending almost a year here I can say there is still room for improvement.
What are the conditions for admission? 
The test was based on two factors - knowledge of English and physical fitness. The requirement for lingual skills were rather serious, so a lot of people couldn't make it. The physical fitness test was much simpler, as it is only required to pass basic British Army entrance requirement. Being in the military institution for couple of years at this point, there were no problem with passing this test. 
How did you get to the UK?
Everything was paid for by the Ukrainian Army. As I went there before the full scale war i just took a regular plane.
Where did you live?
There are barracks attached to the RMAS. I lived there alongside all other cadets.
What did the training course consist of?
The course lasted 1 year and was divided into 3 terms, each ss responsible for the gradual training of future officers. Special attention was paid to the study of the unit management system and academic subjects, which consisted of moral and educational training (basic knowledge of psychology, history of wars and international relations). Constant classes at training grounds were as close as possible to real battles (as far as I could judge from their doctrine and my own experience).
What did you like about the British program?
I liked the emphasis on teamwork, you immediately feel like the platoon in which you studied becames kind of family, and this extends not only to the civilian side of relations, but also to interaction during training. Emphasis on practical training of commanders - everyone is given a chance to be in a position, to understand what it is like to lead a unit, to be responsible for it. I will also note the attitude towards the cadets as future officers - there was no so-called hazing, you communicate with the officers as equals, there is a constant opportunity to ask their opinion, discuss issues, especially regarding training.
What you didn't like about the British program?
The only thing I didn't like was the weak emphasis on physical training – there were hours of personal training, but in the end, the exams didn't seem difficult even to those who didn't train at all. And the course itself does not fully prepare for the front line – after the end of this course, training continues according to the specialty that the cadet chose in his unit. Some cadets begin to skip on trainings, because "why do you need to know how to lead an infantry unit, if they a tanker".
How would you rate the course?
I'd say, seven out of ten. Quite good and high-quality training of an officer, which trains not only his leadership skills, but also the psychological aspect, work under severe stress, which is very important for modern battlefield. However, you will not learn everything, and you will not be taught everything, this is not the goal. The state needs you prepared to a certain extent, then you will be trained in the process of your service. Based on our experience, it is not a particularly effective training scheme.
What are the differences between British and Ukrainian teaching methods?
The British method of education puts the cadet in a position equal to the teachers. In terms of conditions – alcohol is allowed in the army and in general the environment is to some extent elitist, so you have to wear an appropriate dress code, meet certain standards, there are bars on the territory of the academy – you will encounter this and in their units. In general, training is conducted on two sides – service on the base and in combat conditions, with an emphasis on the latter. Our system prepares a cadet all the way from a soldier to an officer in the conditions in which the corresponding military personnel will be. There is not the same elitism that is present in the British Army, but there is a greater down-to-earthness, a greater amount of routine, which is also present in the military.
In general, the Royal Military Academy in Sandhurst accepts foreign students from all over the civilized world, since 1997, 15 Ukrainian cadets have studied here. The best foreign graduate receives a special award – the Saber of the best foreign graduate of the Royal Academy of Land Forces of Great Britain in Sandhurst.
On August 9, 2019, Artem Baranenko became the first Ukrainian to receive this distinction. The following year, in 2020, Ukrainian cadet Anton Sovenko from the Military Academy in Odesa also received the award.
Subscribe: https://t.me/british_armed_forces