Guillaume Chauvin takes an unexpected approach to conflict photography in Ukraine: the French war photographer has been capturing the open conflict and its violent aftermath in the Donbass region since its beginnings in 2014. His self-imposed mission is to create an "immersive book of war", full of text, bright colors, and the strange obscurities of war.
Driven by the desire to create something that one wouldn't usually see in a photobook, Guillaume documents his own experiences of living on the frontline, far from the regular war-reporter hangouts. He fuses his findings and strong images into publications that mix "documentary, weirdness, fashion and historical archive". His remote position has allowed him to reflect on the realities of a contemporary conflict that are undisclosed by classical media because they are complicated, contradictory, ambiguous, hard to reach, and slow to reveal themselves. The following chapter "sniper chapter" is a sample of his 5 years of global work.
20. Rebel Silencers – A Red Bull Can
This shot captures Erwan, a French volunteer fighting on the side of the separatists. Erwan, who has been embedded with the separatist forces since 2015, is seen here embedded in a position somewhere in the suburbs of Donetsk. Affixed to the end of his custom SVD sniper rifle is a can of Red Bull in order to reduce sun flare from the sniper rifle lens. Erwan has been embedded with the separatist forces since 2015.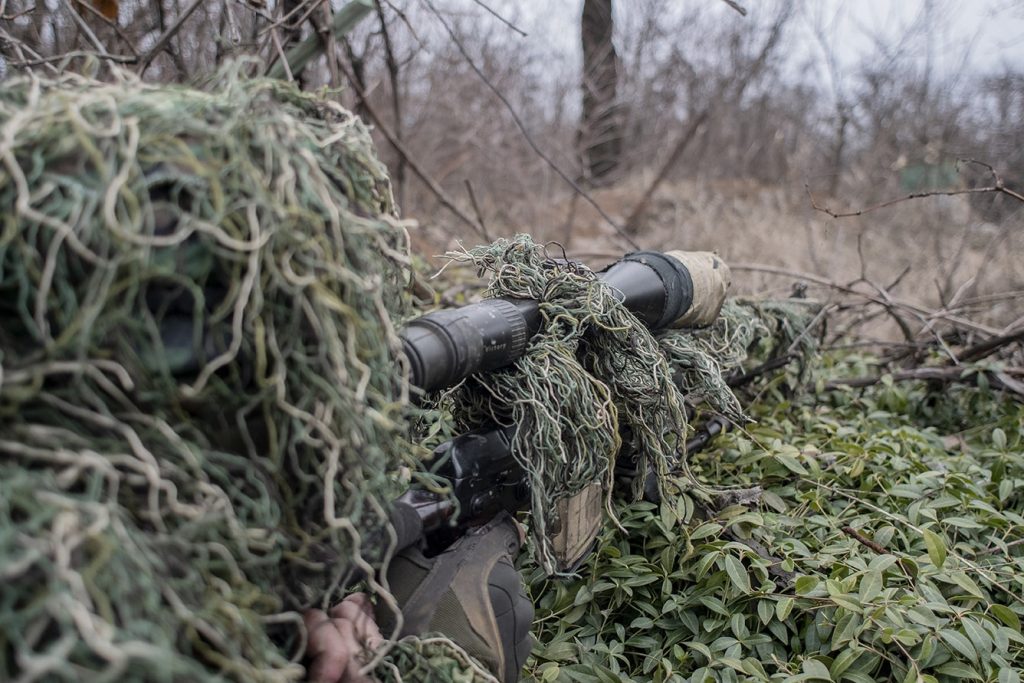 19. Recon in Donetsk
Another photo of French volunteer Erwan, seen here obscured by a camouflage face net, as he readies himself to leave his position and carry out a recon mission as the designated sniper of his unit.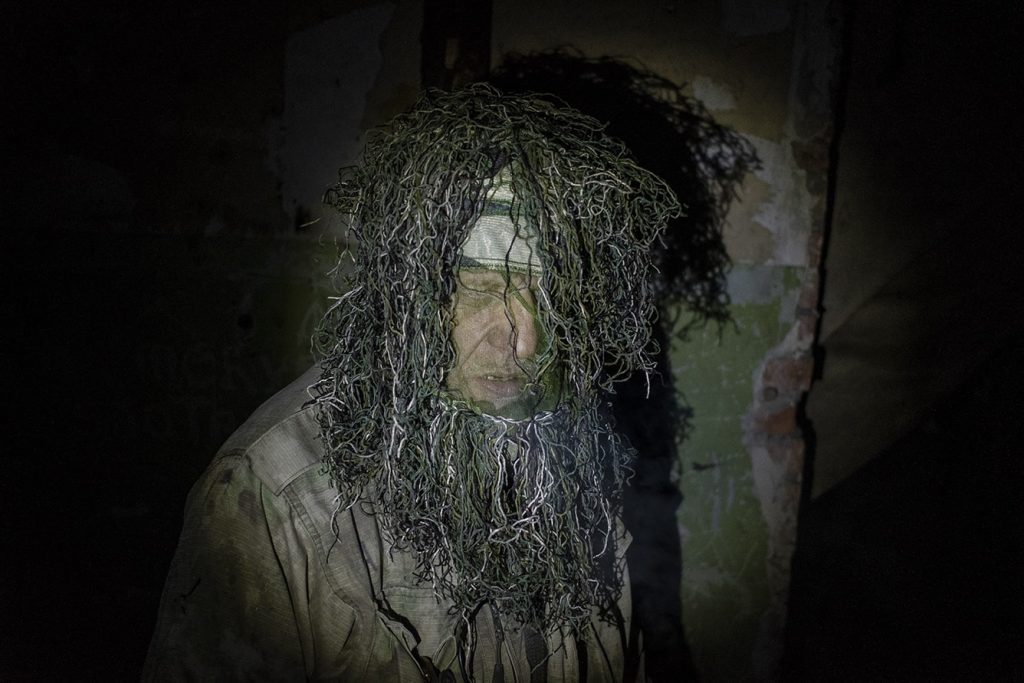 18. A Separatist Fighter Demonstrates a 4.5×114mm round to the War Photographer
This large caliber round held by this rebel fighter is used by the PTRS-41 rifle. This Soviet-era rifle was created in the Second World War in order to deal devastating blows to Nazi tanks. In the ongoing war in Ukraine, it has made a comeback. These days, it is used as an effective weapon to destroy enemy positions, soft-skin vehicles, and of course, personnel.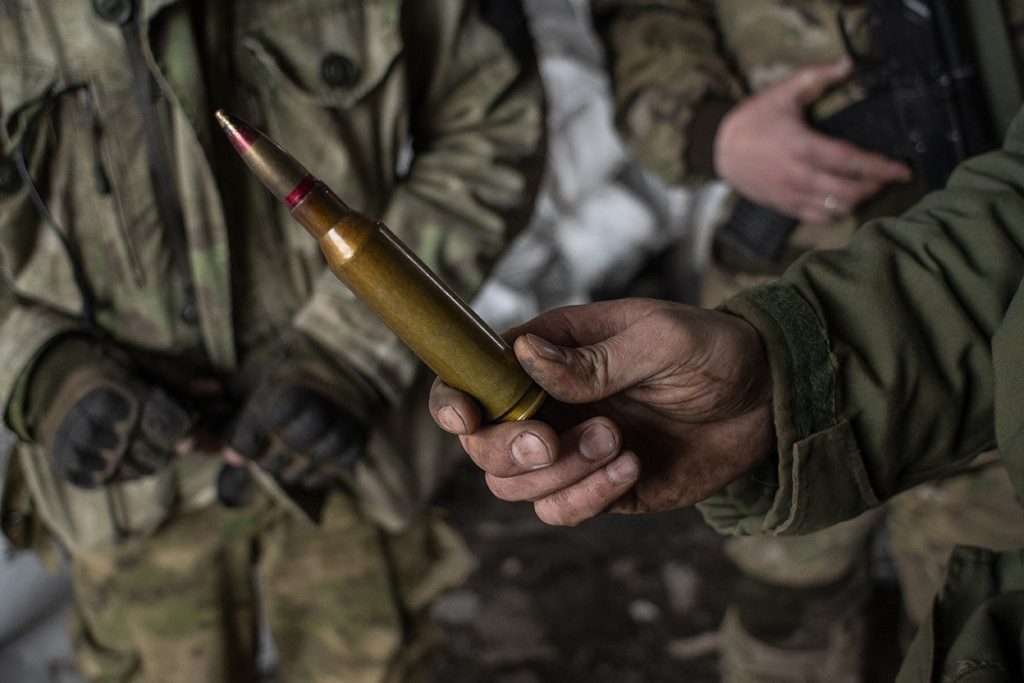 17. A Veteran of WW2 Pulled Out of Retirement
This shot is a close up of the weapons markings on the PTRS-41 that fires the high calibre round in the previous photo. Made in 1944 at the Izhmash factory of the Soviet Union, this rifle would have seen extensive action during the late stages of WW2 against Axis forces. "This weapon was used to fight Fascists on this very same frontline in the Great Patriotic War, today we use it for the same purpose" rebel fighters told the French war photographer.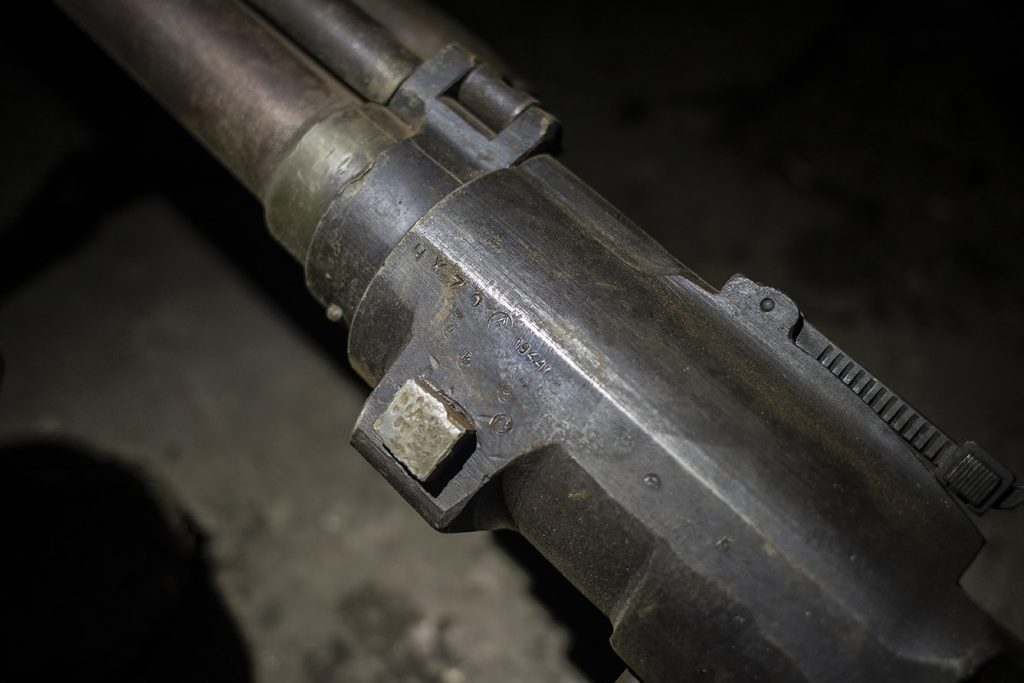 16. The Dachas and Gardens are Long Gone
The French War photographer captured this image of the utter devastation caused by the war in Ukraine. What was once dachas (holiday homes) and gardens has now been replaced by bullet riddled concrete, unexploded ordnance, and rubble. Such is the reality of war.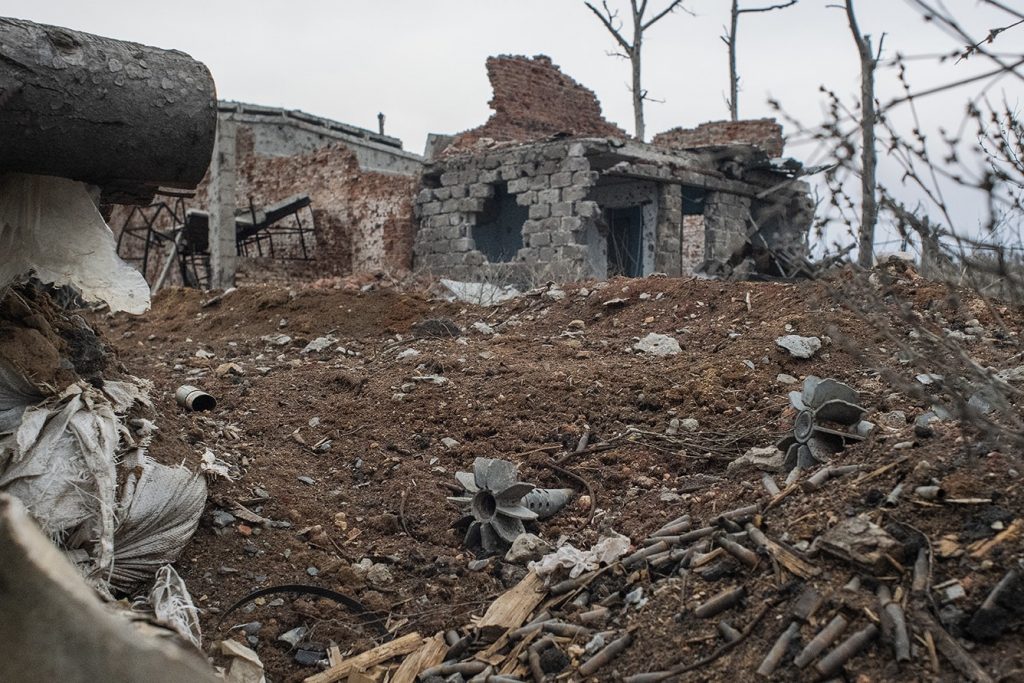 15. A Trench Periscope From the USSR
Another photo of French volunteer Erwan in a bombed-out building at a position near Yasynuvata. Back on patrol as a sniper, he can be seen here using a trench periscope that dates back to the Soviet Union in order to spot his potential targets.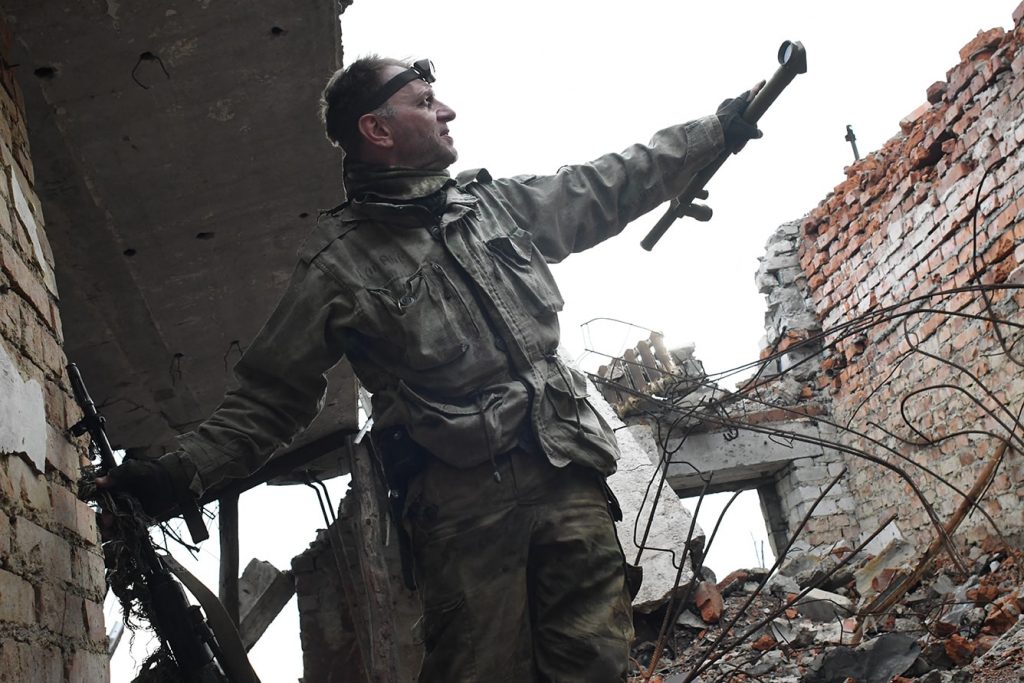 14. Sniper Words: "You'll Only Die Exhausted"
The mud-encrusted boots of a separatist sniper waiting in a position somewhere near Yasynuvata in the suburbs of the self-declared Donetsk People's Republic. On the wall of this position, the war photographer saw graffiti that read "Don't try to run from the sniper, you'll only die exhausted."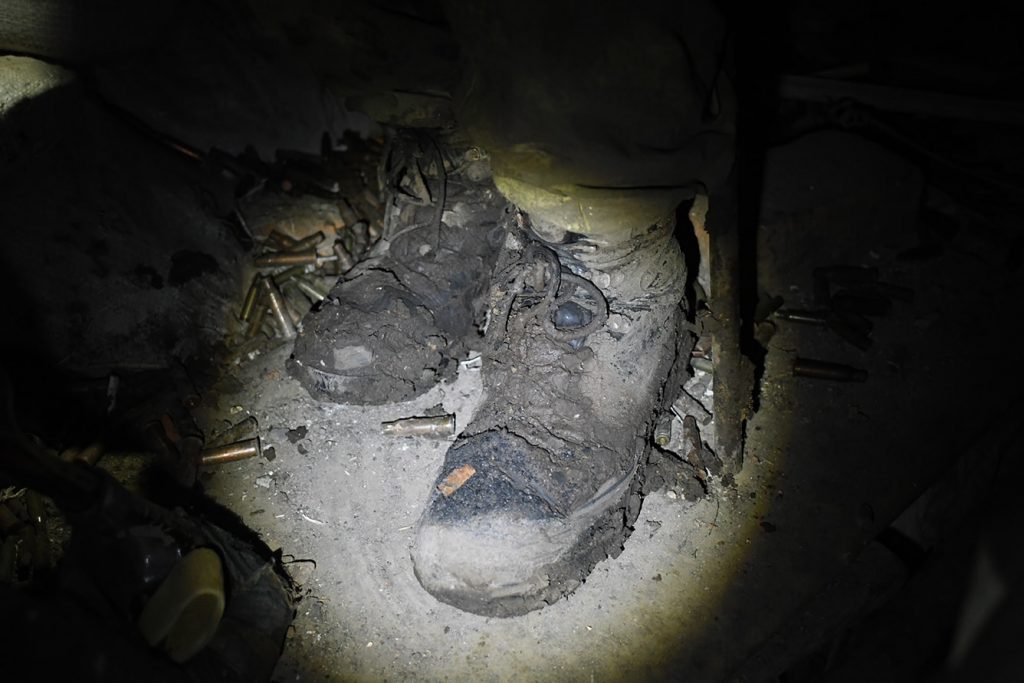 13. Separatists Reload a Soviet Made PKM General Purpose Machine Gun
In a bunker somewhere near Yasynuvata, the French war photographer captured this image of a PKM general-purpose machine gun being reloaded by separatist fighters. As part of the Kalashnikov family, the PKM, designed by the Soviet Union in the late 1960s, has become an ever-present feature of the war in Ukraine and various other conflicts in the post-Soviet world.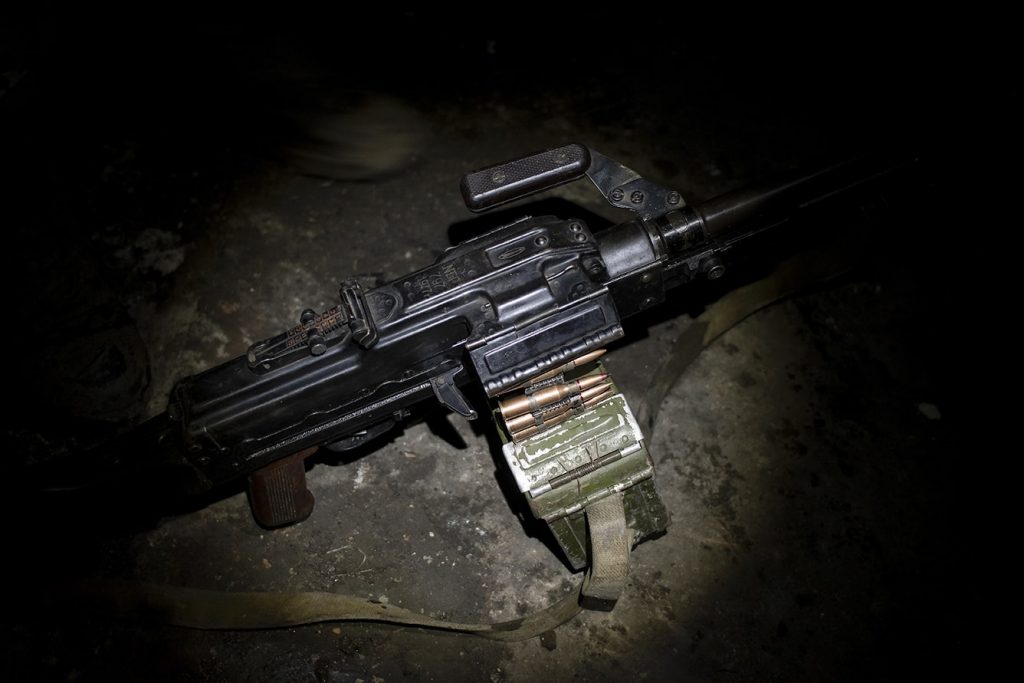 12. The War Photographer Sees DPR Spetsnaz Training on the Southern Front
On the Southern Front near Kominternovo, a Spetsnaz unit of the armed forces of the Donetsk People's Republic carries out combat training. Here they can be seen practicing room clearance on a disused building. Separate from the Spetsnaz of the Russian military, this is a unit of the self-declared DPR.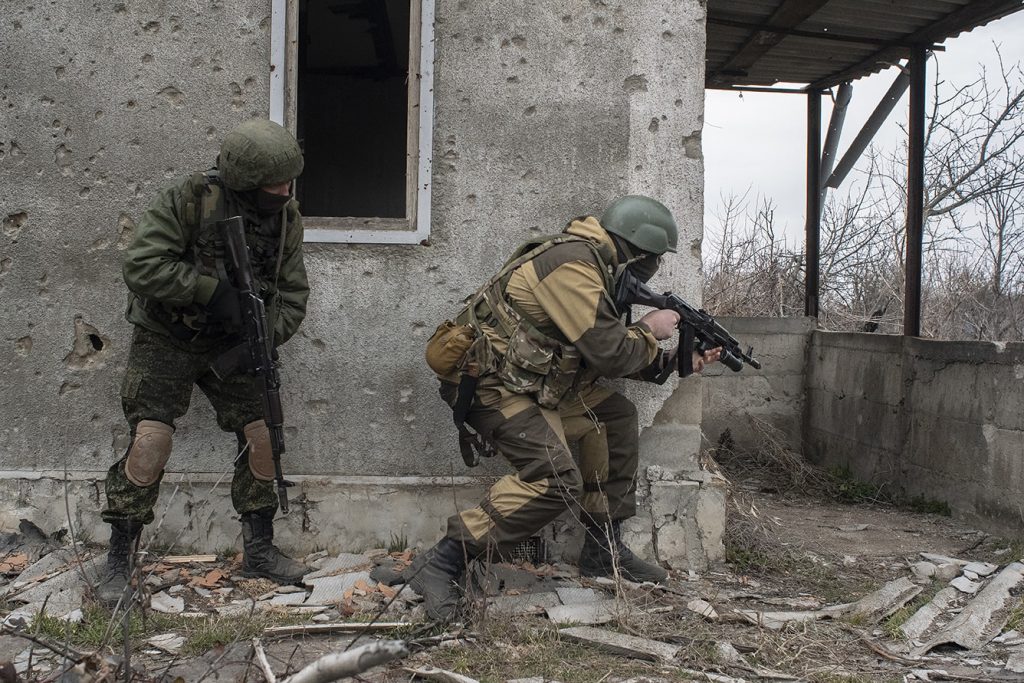 11. Spetsnaz Room Clearing Tactics
An interior shot from the same Spetsnaz training session from the previous session shows room clearing tactics being played out by separatist fighters. It's clear just from this photo that the men are applying the three principles of close quarter battle: Surprise, speed, and violence of action. Taken on the Southern Front near Kominternovo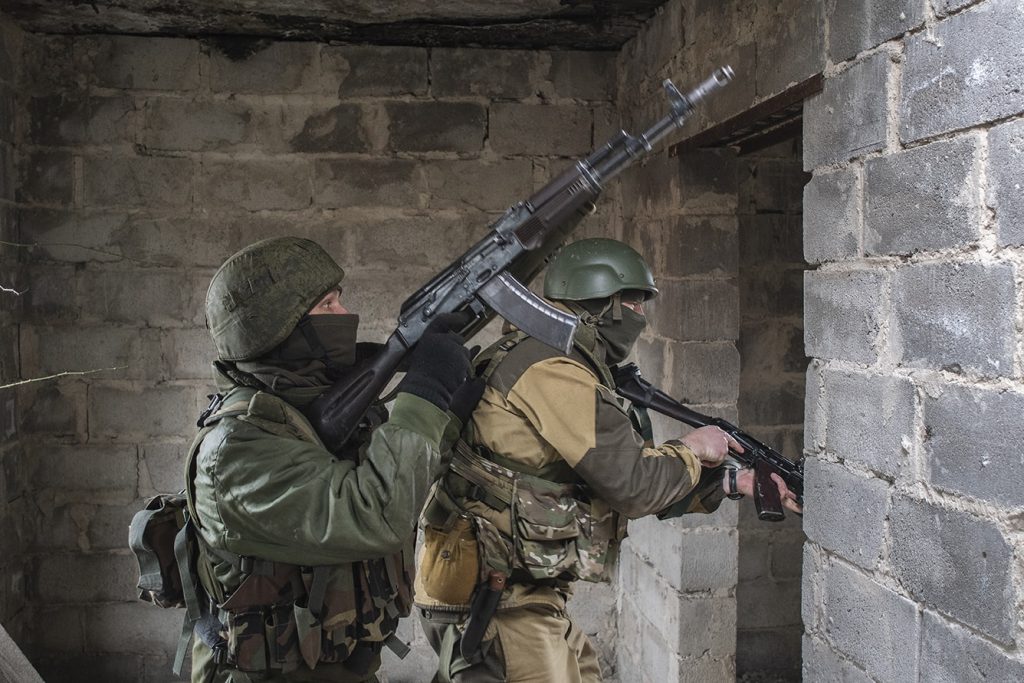 10. A-One Man Sniper Team
A photo of French volunteer Erwan adjusting his scope in a position that was once a former holiday villa (dacha). Interestingly, Erwan is a one-man sniper team. Whilst most snipers usually work in tandem with a spotter, Erwan always works alone and acts as his own spotter.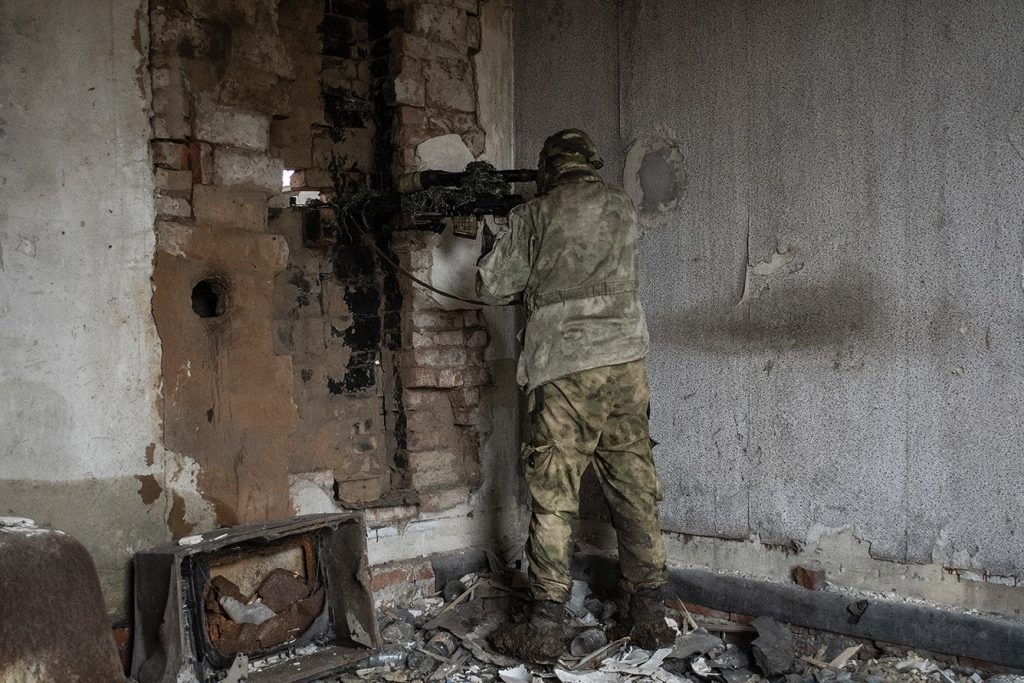 9. Sniper at Work
Erwan takes a position on the ground somewhere near Promka position in the battle-scarred landscape of Yasynuvata. A bed thrown from one of the abandoned local houses can be seen in the background. In addition to the various obstacles that litter the landscape, unexploded ordnance and landmines are a massive threat whilst on the various sectors of the frontline of the war in Ukraine. An example of this threat can be seen in the footage we covered of a Ukrainian soldier stepping on a landmine this year.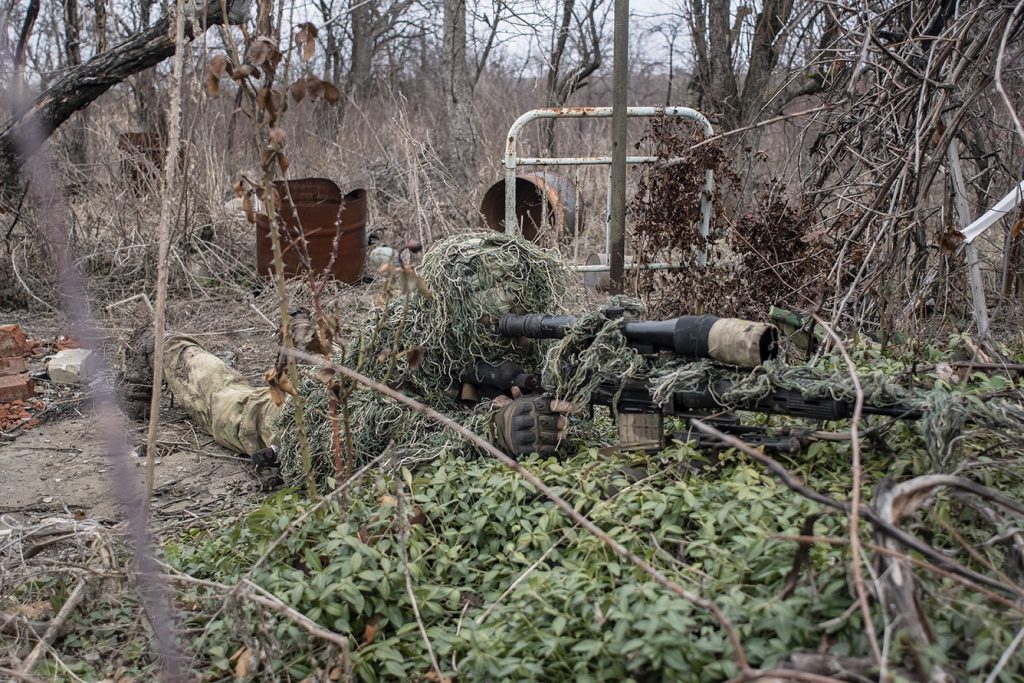 8. Returning Back to Base
Erwan returns to base after the recon mission. Here is seen making his way through the network of separatist trenches that cut through an area once known for its dachas and gardens. Now it's a decimated almost post-apocalyptic wasteland.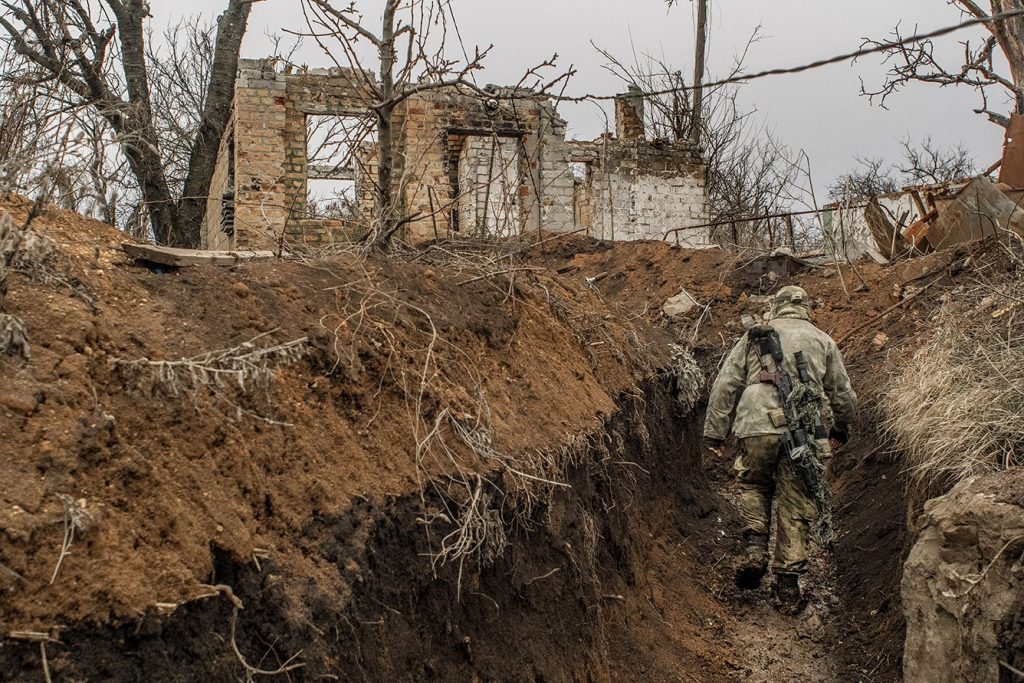 7. A Reconnaisance Mission and a Russian Bulletproof Vest
Separatist fighters of the Spetsnaz units of the Donetsk People's Republic can be seen here making last-minute preparations as they leave their base for a reconnaissance mission along the frontline of the Southern Front near Kominternovo. They can be seen wearing the common variant of a Russian bulletproof vest.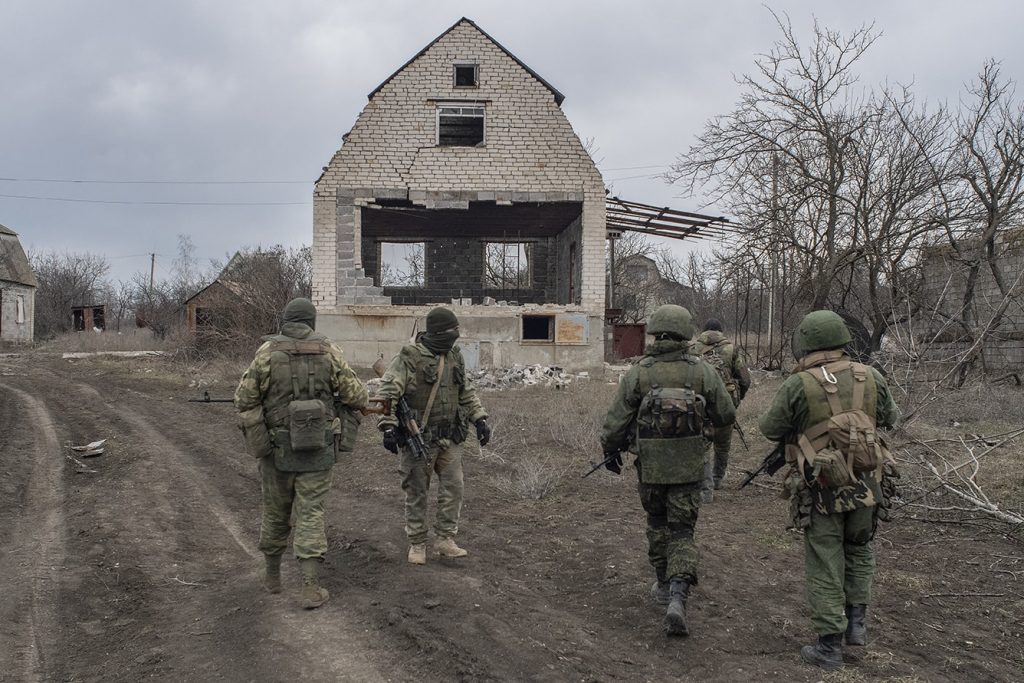 6. Spetsnaz Fighter Provides Cover
As his fellow fighters move forward in their reconnaissance mission along the frontline of the Southern Front near Kominternovo, one Spetsnaz fighter takes a position in a trench and provides overwatch. He's armed with an AK-74 assault rifle with a GP-34 under-barrel grenade launcher attached.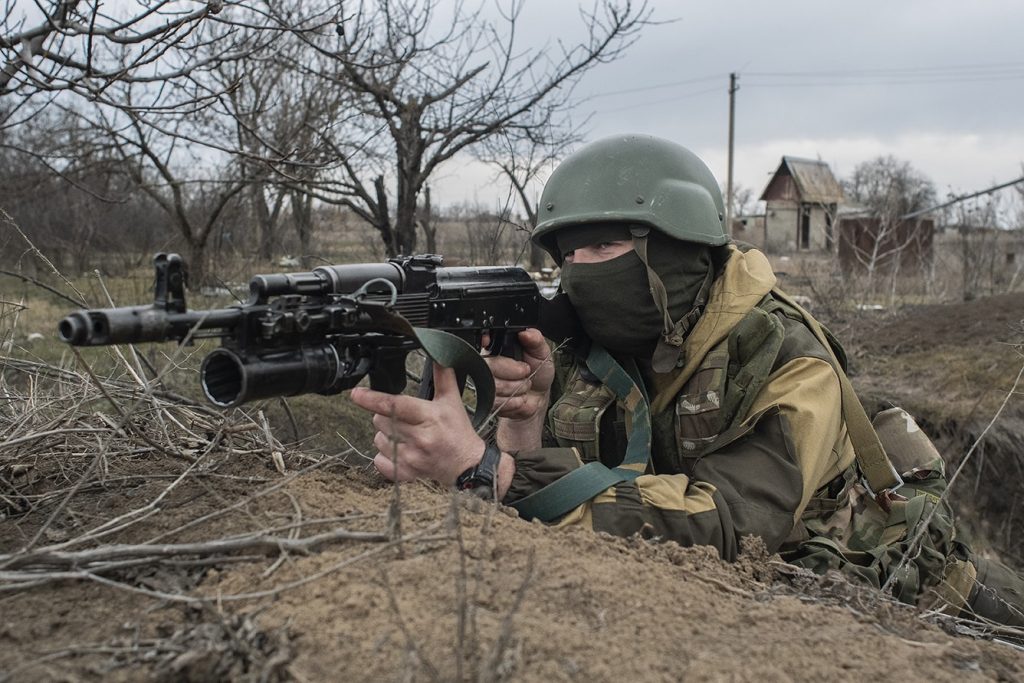 5. Separatist Fighters Move Through the War Ravaged Landscape
The view of the Spetsnaz fighter in the previous image covering his comrades. This photo captured by the war photographer shows Spetsnaz of the DPR moving through the battle scarred landscape whilst on a reconnaissance mission. One can be seen carrying a PKM General Purpose Machine Gun and the other can be seen packing a sleeping bad in case of an unexpected sleepover at a desolate position somewhere on the frontline.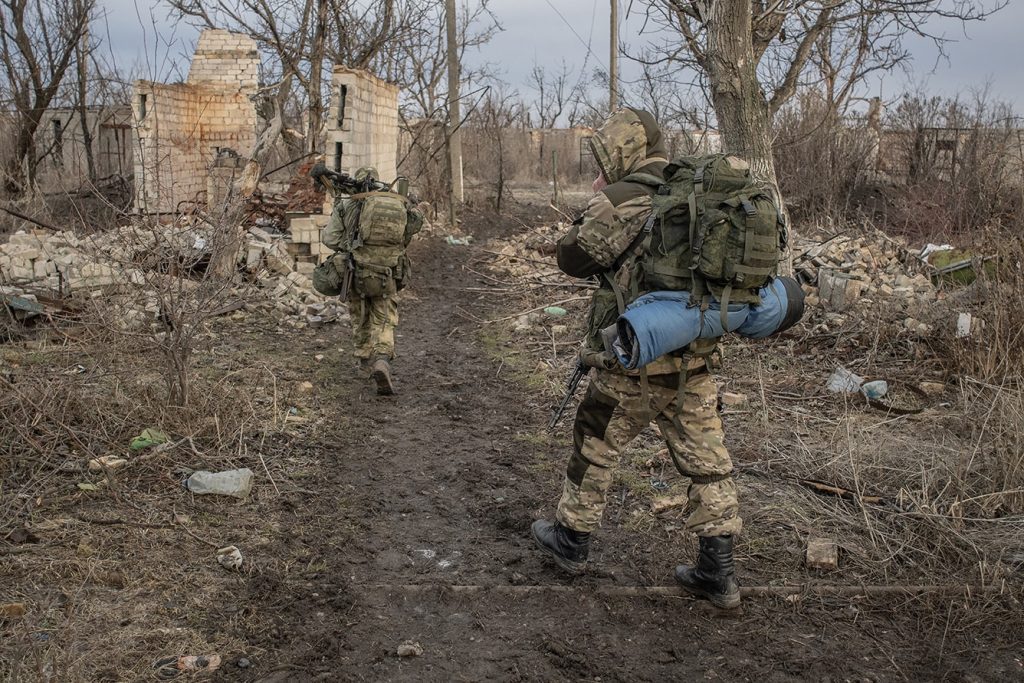 4. A Sniper in the Garden
Another shot from Promka position shows the decimated former gardens and dachas. Once again, Erwan can be seen with his modified SVD sniper rifle standing in a low trench.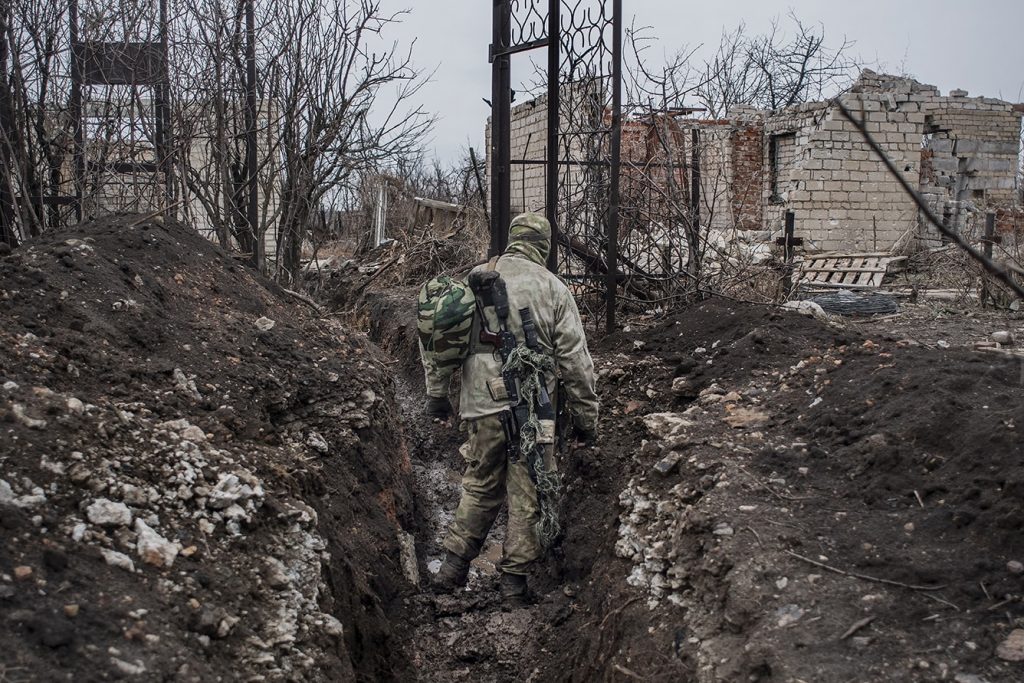 3. The War Photographer on the Way to Promka
A separatist fighter armed with an AK-74 assault rifle makes his way through the World War One style trench lines leading to Promka position near Yasynuvata on the outskirts of the city of Donetsk.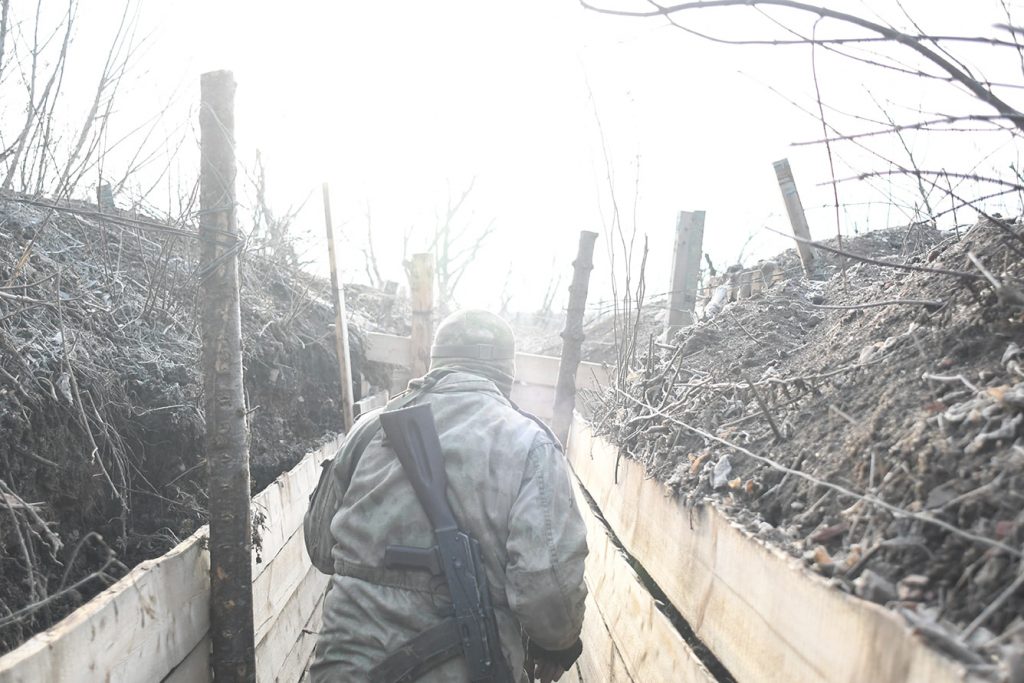 2. Russian Damascus Knives and Sniper Rifles
Another photo of Erwan on a position somewhere near Yasynuvata. Alongside his custom sniper rifle, he can also be seen carrying a hefty combat knife attached to his belt. This looks like one of the Russian combat knives commonly available across the former Soviet Union. A few months before this photo was taken, Erwan was wounded when he triggered a Ukrainian booby trap. He last a chunk of his arm as a result.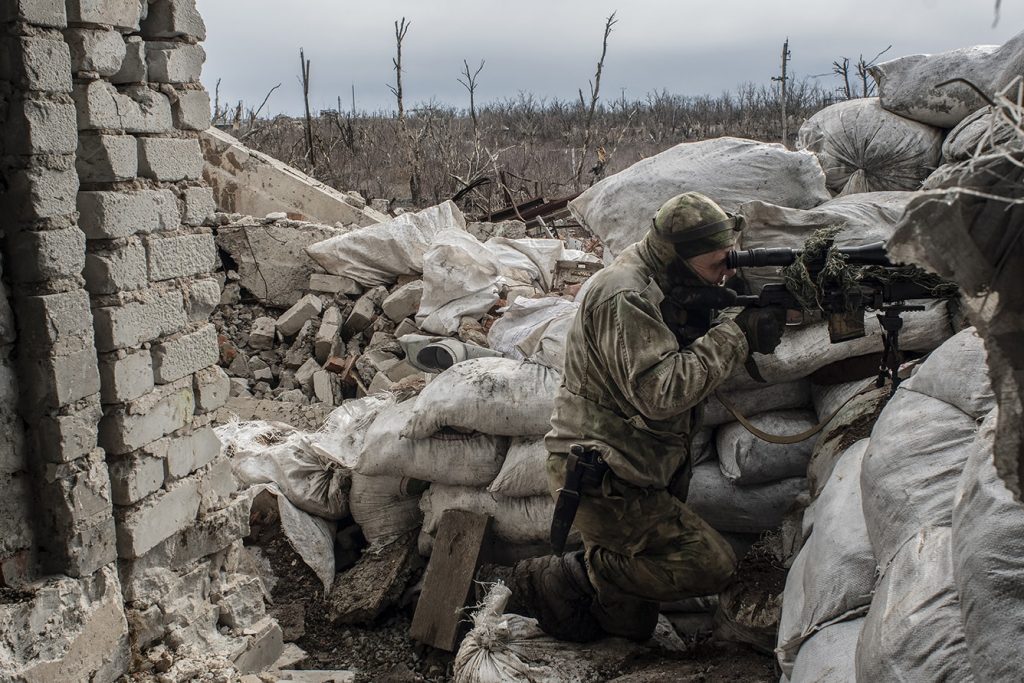 1. The War Photographer in Officers Quarters Submerged in Darkness
My favourite of all of these epic photos captured by the French war photographer was this shot captured somewhere on the Southern Front near Kominternovo. It shows three officers of the DPR military sitting in underground quarters. Shortly before this photo was taken, the position was struck by Ukrainian shelling which severed the electric lines. The men will wait two days in darkness until it is fixed.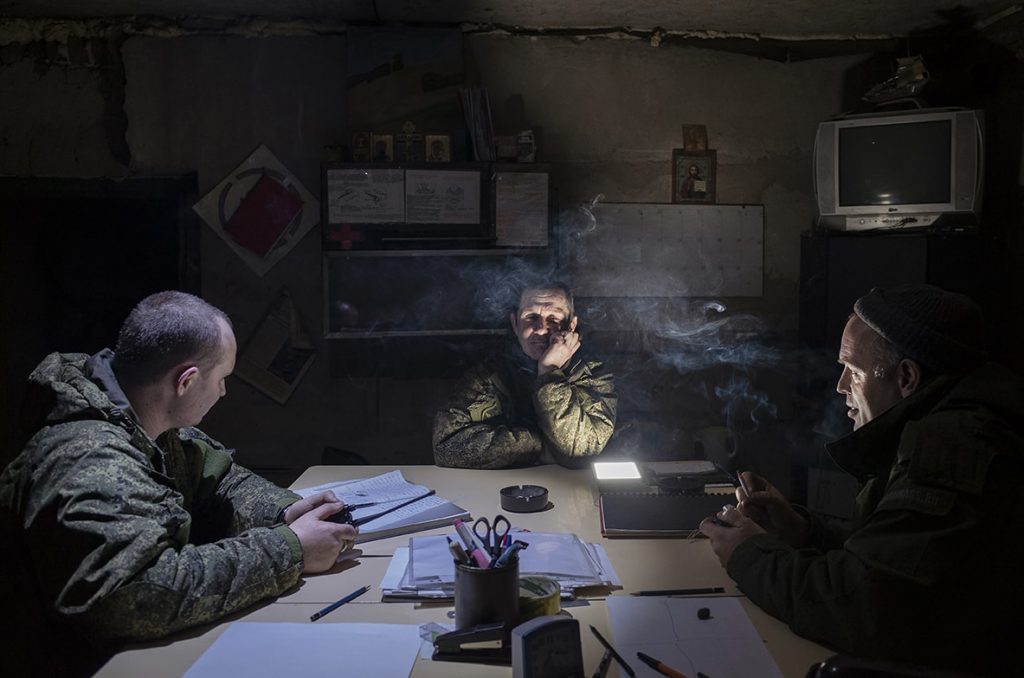 The War in the Donbass region of Eastern Ukraine has been raging for over 5 years now. It is a largely conventional armed conflict between Ukrainian government forces and Russia-backed separatist militias. The war has killed over 13,000 people and injured and displaced many thousands more.
---
Disclaimer: This article is bipartisan and does not aim to take sides in the War in Ukraine. It is published to provide an insight into the lesser-seen side of this conflict. All of the photos used in this article are the property of French war photographer Guillaume Chauvin and may not be reused or republished without express permission from himself.