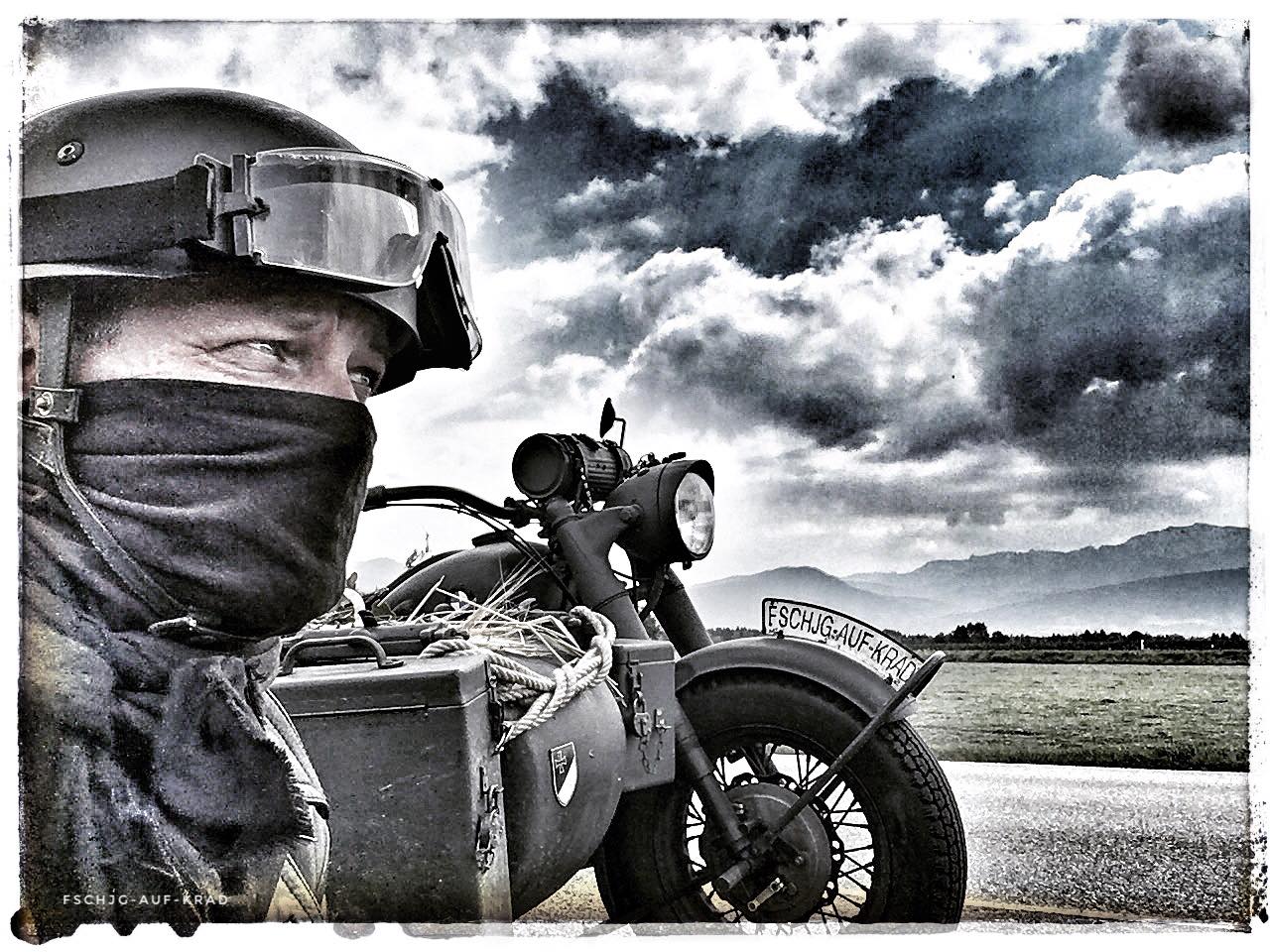 At Reaper Feed we focus on global conflict, military technology, and the history of warfare throughout the ages. However, at the base of our organization, we are of course pro-peace and not pro-war. Recently, we were lucky enough to be introduced to Gerd Kramer, a former German paratrooper who is the founder of FschJg-Auf-Krad: a non-profit, non-political project that is designed to honor peace through motorcycle tours to various war memorials across Europe.
The image of paratrooper Gerd and his iconic vintage motorbike at various poignant war memorials around the world creates some very striking and evocative images. So we contacted Gerd and we were excited to conduct an interview with him to find out more about this incredible project.
Tell us a little about your background: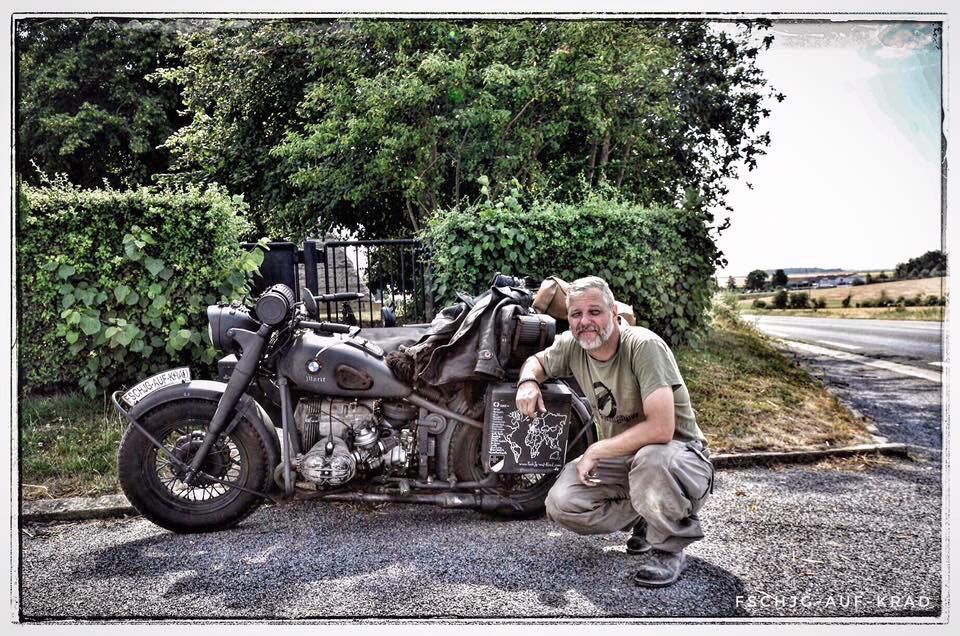 I was born in Kiel, northern Germany. For a number of years, I served as a tank commander as well as a Paratrooper (Fallschirmjäger) in the Bundeswehr. After active military service, I relocated to Japan and established a company there and at the moment I live and work in the city of Osaka although I am currently still a reservist paratrooper in the Bundeswehr. Whenever I get some time, I devote it to study military history. I am also an avid motorcycle enthusiast and have been repairing and riding vintage motorcycles for more than 30 years.
What kind of project is FschJg-auf-Krad?
After researching and saving money for many years, I started the FschJg-Auf-Krad project back in 2015. Using my vintage motorbike, I visit former battlefields and military cemeteries of the first and second world wars to pay tribute and to offer memorial wreaths. I provide reportage on my tours on both my website and social media to remind people of what had happened at those places, with the hope that they would appreciate and value 'peace' more.
The project also aims to create a better understanding between different countries in Europe. By driving across all of these countries and talking to a variety of different people, a lot of positive interaction and exchange of thoughts take place. Whilst I am able to share a bit about myself and Germany, I also get the chance to learn a lot from others about their country, their culture, history, and heritage. This exchange of knowledge helps us to better understand the state of the matter, both in the present as well as what has transpired in the past.
What is the meaning behind the "FschJg-auf-Krad" name?
Sure, firstly "FschJg" is a German military short-cut for "Fallschirmjäger" or "paratrooper". "Auf" means on and "Krad" means motorcycle. Therefore, FschJg-Auf-Krad simply means "paratrooper on a motorcycle".
I chose the vintage sidecar motorbike as my mode of transport because I knew that a simple regular motorcycle would not draw attention to my project. But with this vintage Krad, people find it fascinating and come over to talk to me wherever I go. At first, their interest is in the Krad but then they learn about me, where I come from, and learn about the project. I also carry postcards in a variety of languages to explain the project better to those I meet on my journeys.
What do you hope to achieve through FschJg-auf-Krad?
Through my annual soldier-memorial tours, I try my best to ensure that people don't forget those who gave up their lives for their country. I like to remind the living generations of the value of peace, with the hope that we all can stand united in promoting peace in Europe, and the world at large. Honesty, uprightness, reliability, striving for perfection, reason, and logic are the characteristics that I most admire in people, and these are also the traits that have influenced my own life. These traits have also inspired me in this project "FschJg-Auf-Krad", which is a non-political and non-profit
What is the meaning of the symbol on your motorbike?
I created the symbol specifically for this project. The two colors that it features, black and white, stand for simplicity and clear lines. The iron cross is a German symbol dating back to 1813 and honors courage that one has for his country. The iron cross I use, in the 1813 style, was used both during the battles against Napoleon Bonaparte and then later in other battles, including WW1 and WW2.
Where do you sleep on your motorbike memorial tours?
If possible, I put up my tent somewhere along the way, but mostly I stay at camping sites, so I can make a fire, take a shower and so on. Sometimes I stay with friends and friends of the project that I have made online and who support my project. As a non-profit project, my budget is small, so no hotels!
How can people support your project?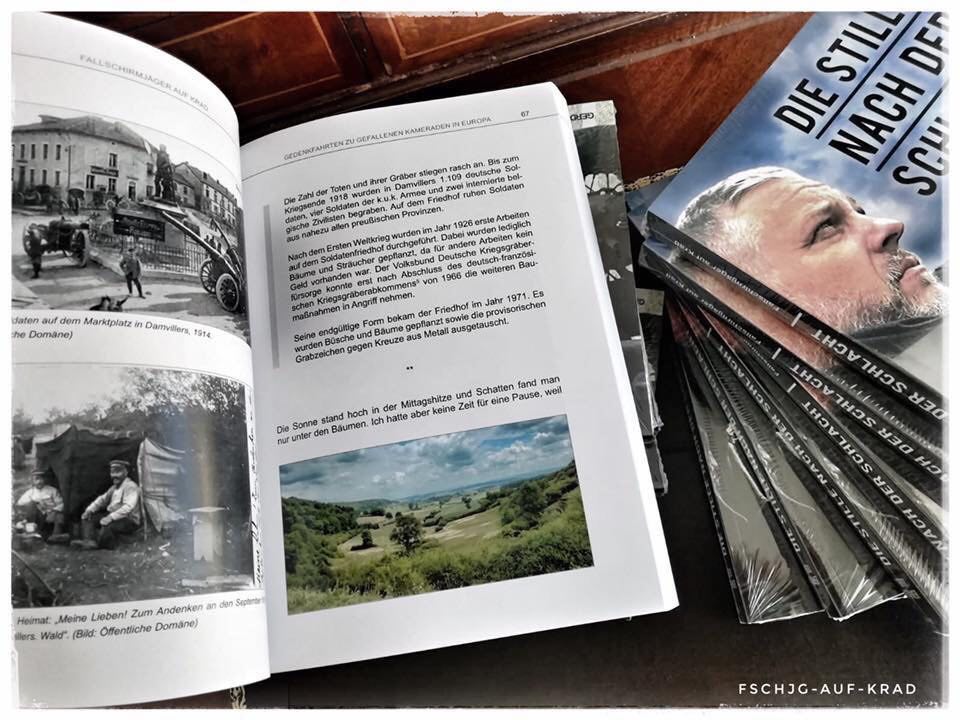 To support my project its as easy as following me on Facebook, Instagram, or Twitter. There you can write your thoughts and impressions about my project as well as share my reports to help my project reach a wider audience.
My project is completely non-profit and funded personally but if you would like to support my memorial tours, then some food, a place to stay, gasoline, or just by having a cup of coffee and a chat would be great!
Interviews or short documentaries about my project are always welcome and I speak German, English, and Japanese which makes interviews a lot easier! Whilst I largely travel alone, if you like, you could also join me on my tour for a few kilometers with your motorcycle or car.
What are your future plans?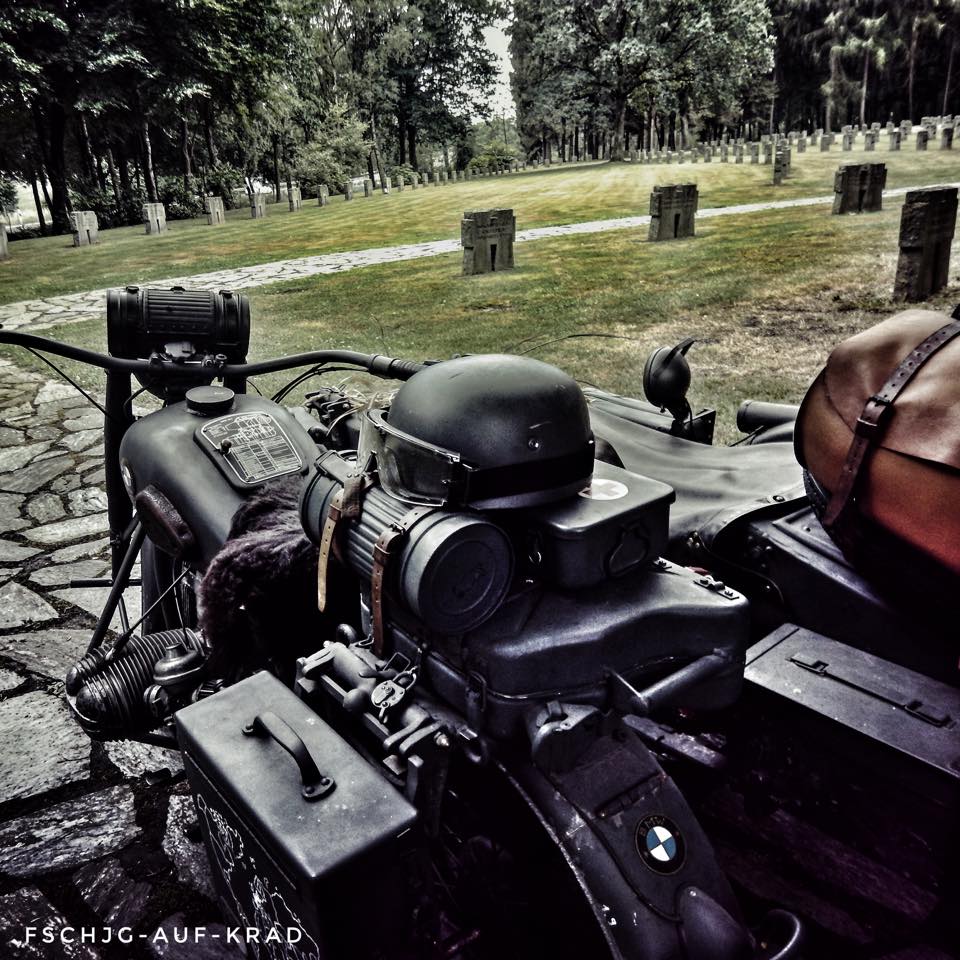 I am aiming to visit more places related to the memory of war in Europe. At the moment, I have a list of over 70 more destinations to visit. If you have any other recommendations or feel that I have missed out on some sites, let me know as I would love to add more to my list.
After the success of my first book, I now have a second book on the way, and I would also like to drive around the world on my Krad with the eventual goal of reaching Japan. My first book is available here, it's currently only in German but an English translation is on the way.
We would like to thank Gerd Kramer for sitting down with us for an interview and we wish him the best of luck in his admirable project. If you can support his project in any way, you can contact Gerd through his website. If you enjoyed our interview, check out our military history department for related articles.